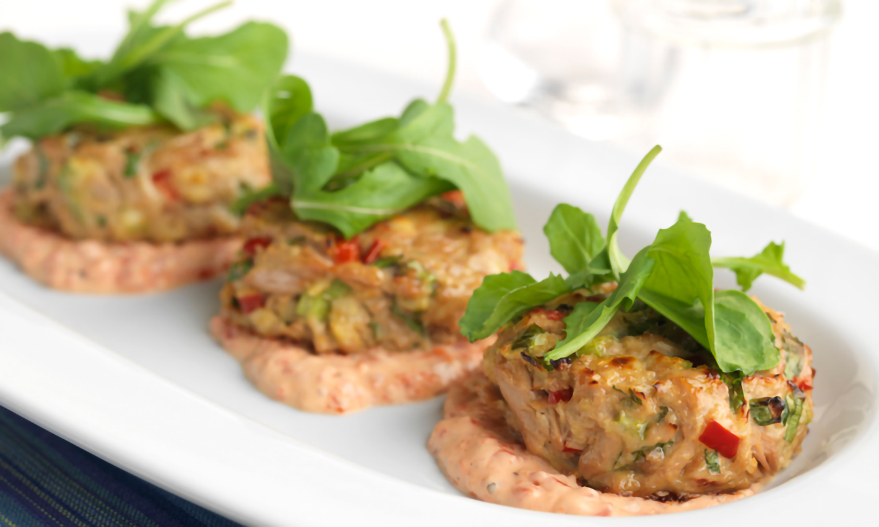 Crab Cakes with Roasted Pepper Aioli
A twist on classic crab cakes thanks to the roasted pepper aioli. Try them as a side for dinner or on a toasted english muffin, eggs benedict style!
Ingredients
1 can (170g) Ocean's Wild Crabmeat, drained
¼ cup green onions, finely chopped
¼ cup celery, finely chopped
¼ cup red pepper, finely chopped
¼ cup parsley, finely chopped
¾ cup unsalted soda crackers, crushed
½ tsp thyme
½ cup plain yogurt
2 tbsp Parmesan cheese, grated
1 tsp horseradish
1 large egg
AIOLI:
1 clove garlic, minced
2 tbsp olive oil
2 roasted red peppers, skinned, seeded & drained on paper towel
½ tsp dry mustard
1 tsp mayonnaise
½ lemon, juiced
⅛ tsp cayenne pepper
Product Used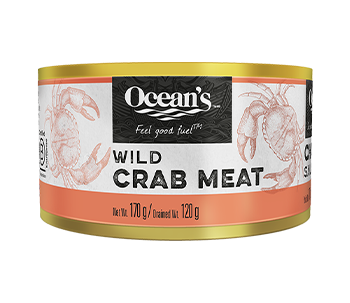 Wild Crabmeat
Directions
Make aioli: place all ingredients into a food processor; purée until smooth. Set aside to let flavours combine.
Preheat oven to 375°F (190°C)
Combine all other ingredients in a large mixing bowl; mix well.
Place parchment paper on baking sheet. Pack crab mixture into a ¼ cup measuring cup; lightly tap to drop onto baking sheet; flatten to make ½ inch thick cakes.
Bake for 8-10 minutes, or until golden brown. Finish under the broiler to further brown the tops of cakes.
Drizzle with aioli and serve warm.
Tips and Tricks
Makes a great light lunch when two are served on top of a salad.
Would also make a great protein hack for eggs Benedict.
Recipe Reviews