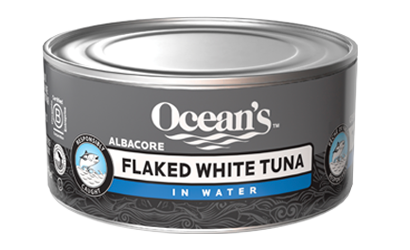 Flaked White Albacore Tuna
(Albacore Tuna – Latin: Thunnus alalunga)
Our albacore has a subtle flavour similar to the taste of chicken making it perfect for the classic tuna recipes you love!
See Nutritional Information
Albacore is one of the larger tuna species weighing 9-20kg on average, and distinguished by their longer pectoral fins.
Albacore can be found in the Atlantic, Pacific and Indian oceans.
Our Albacore is from the Central Pacific ocean, and caught via long line fishing with circle hooks.
Ingredients
Albacore Tuna
Water
Sea salt
Sodium acid pyrophosphate
Product Features
13g of protein per 55g serving
Low in fat
Low in saturated fat
Free of trans fat
Responsibly caught
Dolphin friendly
Wild caught
Kosher
Certified B Corp