We all know we should prioritize our health. In fact, we know it so well that clean eating and fitness make up the majority of New Year's resolutions. Making those resolutions a reality is hard work but every New Year brings with it a renewed feeling of potential. This year, use that feeling to build up some momentum towards reaching your fitness and nutrition goals. Read on for three simple ways you can get started on making this year your healthiest one yet.
Go Outside, Even When The Weather Isn't Ideal
There's no question that Canadians love the great outdoors. However, we tend to shy away from being outdoors when weather conditions are bad. This year, resolve to go outside even when the weather isn't great. Not only will being outdoors keep you active but it will boost your energy, improve your mood, and help you focus.
To get started, try brief walks with good company or among beautiful scenery. This will make your walks more enjoyable and help take the focus off of the weather. In time you'll find that the weather matters less and less, especially if you're wearing the right clothes.
Exercise, But Be Kind
Exercise is a key ingredient in a healthy lifestyle but it's also one of the toughest things to get started with. If you're not in the habit of exercising regularly, developing an exercise routine can feel daunting at best. Luckily, there are some tools that can help you get started but before you explore those, remember to start small and be kind to yourself. With that in mind, try different types of exercise through services like ClassPass or join a gym that offers a variety of classes. Not only will trying different things keep you engaged but it will allow you to learn about yourself and types of work outs you like.
If you're not ready to join a gym or try group fitness classes, find a mobile app or fitness routine online that lets you work out at home. By finding ways to work out right in your living room or basement, you'll remove a lot of the common barriers and excuses that keep people from exercising.
Make Clean Eating Fun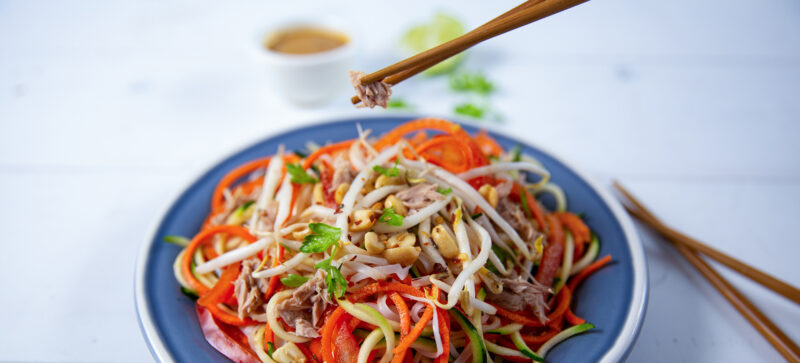 Let's face it, eating dessert is a lot more fun than getting your protein or veggies. However, there are things you can do to make clean eating fun and enjoyable. For starters, look for recipes that not only fuel your body but are fun to make and use simple ingredients, like seasonal veggies and lean protein. Try these tuna recipes, that combine lean protein with crisp veggies to create three delicious meals: Tuna Pad Thai, Tuna Salad in Pita Pockets, and Grilled Corn Salad. By choosing recipes that are simple and enjoyable to make, you're much more likely to stick to clean eating in the long term.
Comments