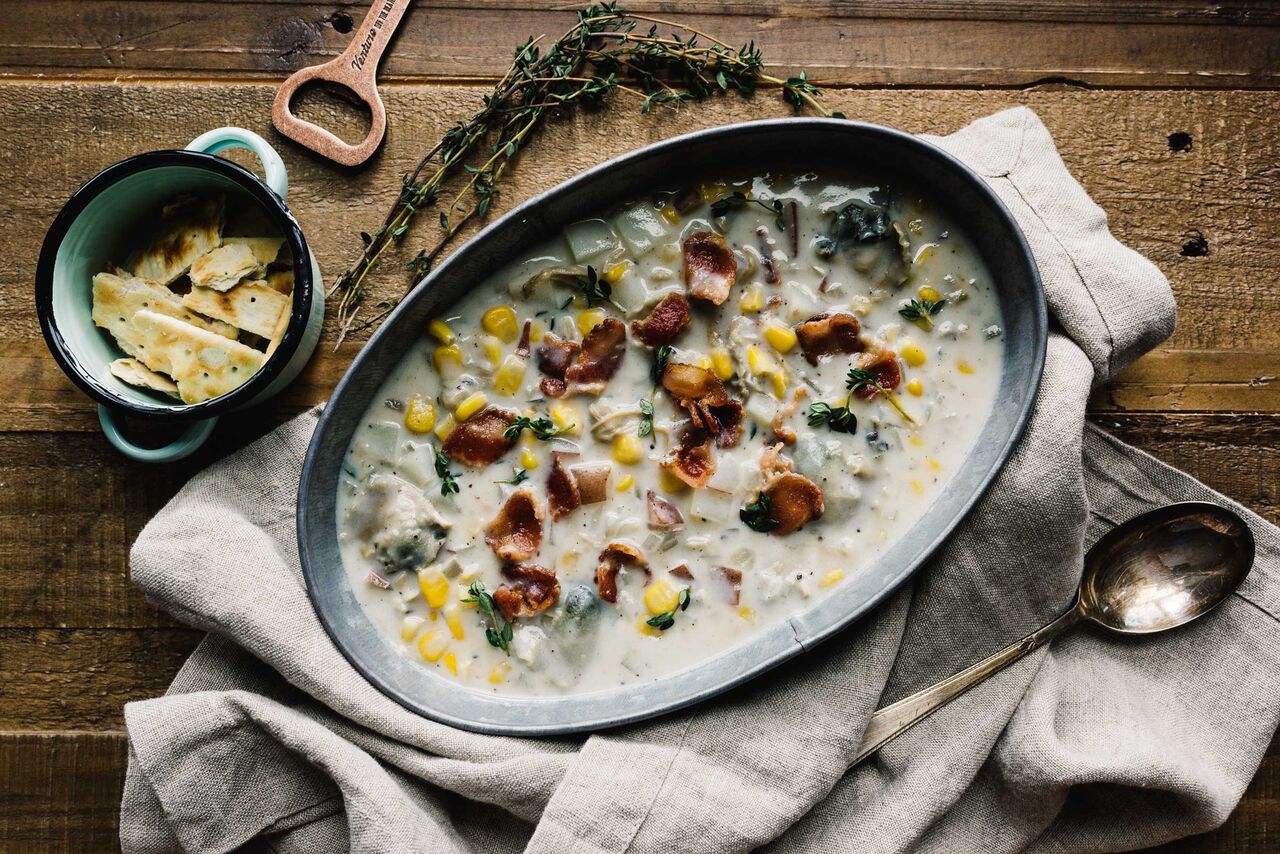 Summer Corn Chowder
Clams and sweet corn join forces to make a healthy and delicious corn chowder. Being cozy isn't just for the colder months! Try this comforting corn chowder recipe as an easy dinner.
Ingredients
2 slices thick-cut bacon, chopped
2 tbsp butter
1 small onion, diced
1 clove garlic, minced
3 tbsp flour
2 cups whole milk
1 bottle clam juice
7 small red potatoes, scrubbed and diced
2 cans (142g) Ocean's Baby Clams, drained
1 cup corn, fresh or frozen
Salt and freshly ground pepper, to taste
Flat-leaf parsley, to finish
Product Used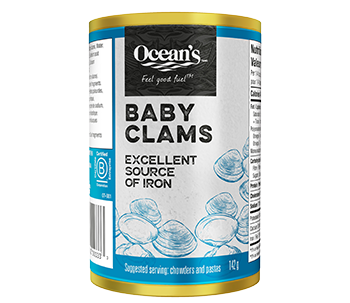 Baby Clams
Directions
Heat a large stockpot or dutch oven over medium-high heat. Cook the bacon, stirring as needed, until brown and crispy. Use a slotted spoon to transfer to a paper towel-lined plate.

Leaving 1 tablespoon of bacon fat in the pot, add the butter and melt over medium heat. Add the onion and garlic and cook, stirring, until soft but not brown, about 2-3 minutes.

Sprinkle the flour on the onions & garlic and stir to incorporate. Slowly stream in the milk and clam juice while whisking. Reduce heat to a simmer and continue whisking mixture until slightly thickened, about 1-2 minutes. Add the potatoes, bring up to a boil and then lower and cook until tender, about 12-15 minutes.

Stir in the clams and corn and cook until just heated through, about 1-2 minutes. Season with salt and pepper to taste.

Finish with bacon and parsley.  Enjoy immediately.
Tips and Tricks
If you are using fresh corn try roasting the ears until crispy. Remove from cob and add to soup for deeper flavour.
Frozen corn will make this a year-round favourite.
Serve with fresh bread and a salad for a healthy and hearty dinner.
Recipe Reviews