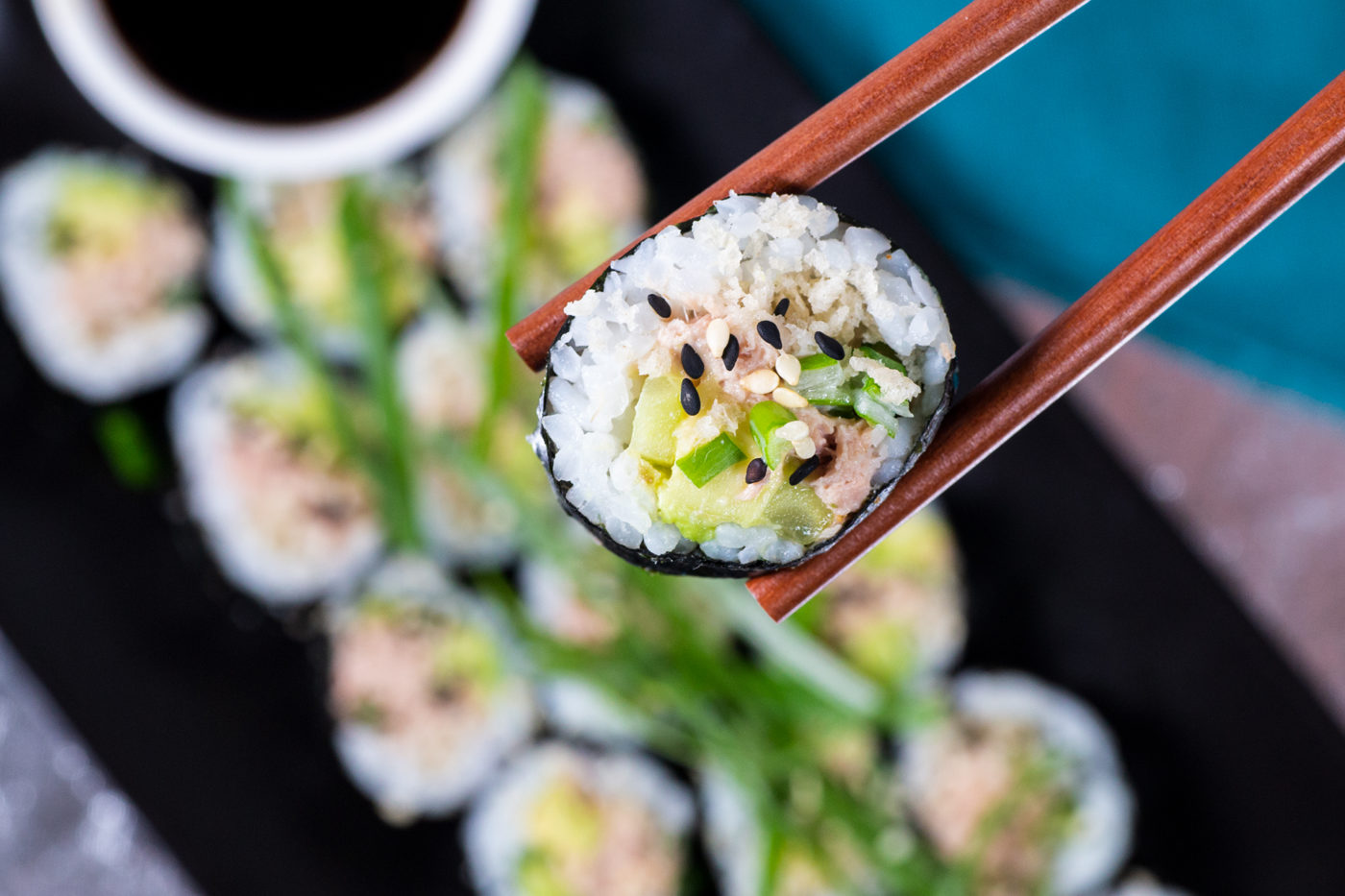 Homemade Spicy Tuna Rolls
You'll feel like a rockstar in no time when you try these homemade spicy tuna rolls! They're surprisingly simple to make when you have all the ingredients on hand. These are the perfect party pleaser or easy meal prep for lunch!
Ingredients
FOR THE SPICY SAUCE:
4 tbsp mayonnaise 

2 tsp sriracha

1 tsp sesame oil

1 tsp honey
FOR THE ROLLS:
2 cups short-grain sushi rice 

2 ½ cups cold water

1 tsp kosher salt

6 tbsp unseasoned rice vinegar

2 tbsp mirin

8 nori sheets

½ cucumber, cut into matchsticks

1 avocado, sliced

2 cans (170g) Ocean's Flaked White Tuna

6 scallions, thinly sliced for garnish

8 tbsp panko breadcrumbs
FOR DIPPING SAUCE:
4 tbsp soy sauce or tamari

1 tbsp coconut nectar

1 tsp sesame oil

1 tsp sriracha
Product Used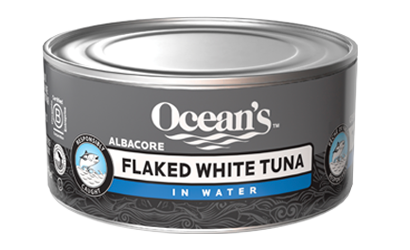 Flaked White Albacore Tuna
Directions
Rinse rice under cool water several times until the water becomes clear. Drain well. Transfer to a small saucepan with kosher salt and cold water. Bring to a boil. Stir the rice, cover and reduce heat to low. Cook for 15-20 minutes. Remove from heat, keep it covered, and let it steam for 10 minutes. 

Season rice with rice vinegar and mirin and set aside to cool.

In a large bowl, whisk the ingredients for the spicy sauce. Drain the tuna and then add to the sauce and mix until combined. Add the scallions.

To prepare sushi, place nori sheet with the shiny side facing down. Evenly divide the rice amongst the nori sheets. Ensure the rice is reaching all of the edges and is evenly pressed down. Do not put rice on the top inch of each nori sheet. 

An inch up from the bottom, arrange cucumber and avocado in a line from left to right. 

Scoop the tuna mixture on top of vegetables and ensure it is evenly distributed. 

Finish with 1 tbsp of panko per nori sheet and sprinkle on top of the other toppings.

Starting from the bottom, firmly roll the nori up and over the toppings. Tuck it in and continue to roll until you reach the top. Dip your finger in a few drops of water and run along the empty space at the top before continuing to roll. Press lightly to seal. 

Use a serrated knife to cut into pieces ½ inch wide.

Whisk together dipping sauce ingredients.
Recipe Reviews