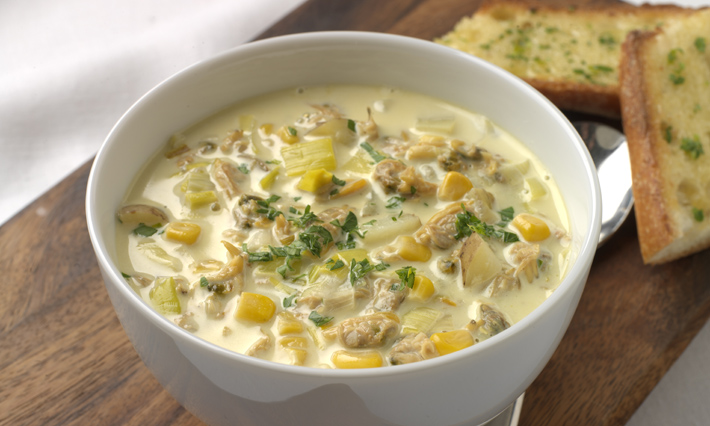 Clams, Leek And Sweet Corn Chowder
Everyone needs a rich, flavourful sweet corn chowder recipe that's easy to enjoy on a cold winter night.
Ingredients
3 cans (142g) Ocean's Whole Baby Clams
2 tbsp butter
2 leeks, finely chopped
1 ¾ cup chicken stock
4 medium new potatoes, peeled and cut into 1/2-inch cubes
2 tbsp corn starch
2 cups half and half cream
½ cup canned or frozen sweet corn
2 tsp thyme leaves, finely chopped
Salt and freshly ground black pepper
Product Used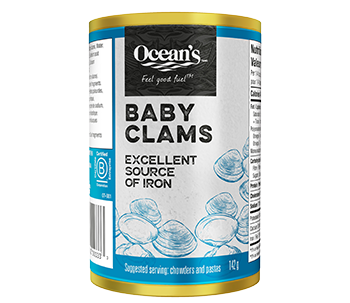 Baby Clams
Directions
Drain clams, reserving the liquid.
In medium heat, melt butter in a large saucepan. Add leeks, and cook gently for 5-6 minutes, without browning them.
Add reserved clam liquid, chicken stock, and potatoes, and bring to a boil, then reduce heat. Cover and simmer for about 5 minutes, or until leeks and potatoes are tender.
In a small bowl, blend corn starch with 2-3 tbsp of half-and-half and set aside.
Add remaining cream to saucepan with the sweet corn and thyme. Heat and simmer for 3-4 minutes.
Add blended corn starch mixture to the soup, and cook gently, stirring constantly, until thickened.
Stir in clams, season with salt and pepper to taste.
Ladle into warmed bowls and serve immediately.
Tips and Tricks
Serve with fresh garlic bread.
Recipe Reviews