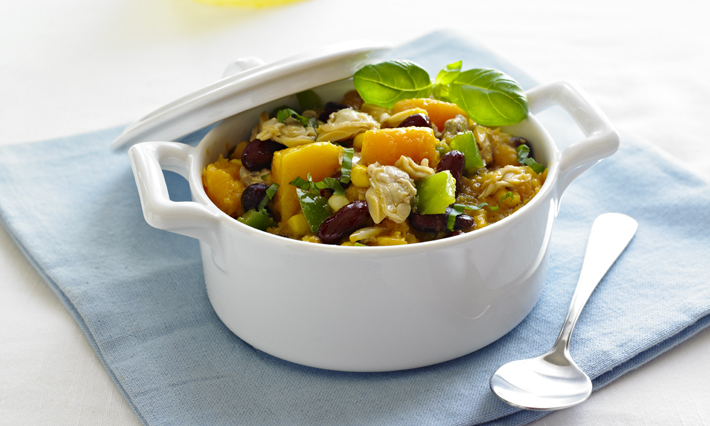 Clams, Corn And Squash Stew
Colourful and healthy comfort food! Delicious clams, corn and squash come together in this stew loaded with Feel Good Fuel and makes a hearty dinner.
Ingredients
1 can (142 g) Ocean's Whole Baby Clams, drained
4 cups chicken broth
1 large butternut squash peeled, seeded and cut into 1-inch cubes
4 cups fresh corn kernels or 3 cups of frozen corn
¾ cup chopped basil leaves
1 can (19oz) kidney beans, drained and thoroughly rinsed
¼ cup plus 2 tbsp of olive oil
1 large onion, coarsely chopped
1 green bell pepper, coarsely chopped
1 tsp ground cumin
1 tsp dried oregano
2 tsp hot paprika
Salt and pepper, to taste
Product Used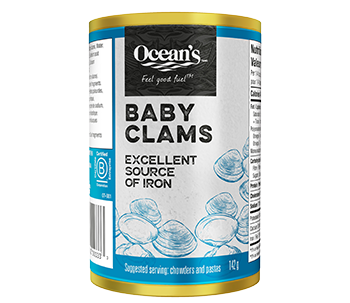 Baby Clams
Directions
In a large pot bring stock, squash and corn to a boil. Cover and simmer over moderately low heat until squash is just tender, about 15 minutes.
Transfer 3 cups of the squash mixture to a blender along with some liquid and ½ cup of the basil. Puree the mixture in a blender. Return the puree to the pot, add the kidney beans and heat through for 2 minutes. Keep warm.
Meanwhile, in a large fry pan, heat 2 tbsp of oil. Add the onion, green pepper, cumin, oregano, and 1 tsp of paprika. Sauté over medium-high heat, stirring occasionally until onion is softened for about 6-8 minutes. Add onion mixture to the stew as well as the drained clams. Stir to combine and season with salt and pepper to taste.
In a small saucepan, heat the remaining ¼ cup of oil. Add the remaining 1 tsp of paprika and cook over low heat until fragrant for about 5-7 minutes.
Ladle the stew into bowls. Swirl in the paprika oil, sprinkle with the remaining ¼ cup of chopped basil and serve.
Tips and Tricks
Serve with crusty bread and a tomato salsa.
Recipe Reviews