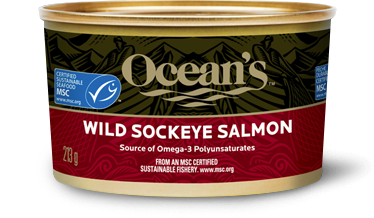 Wild Sockeye Salmon
(Sockeye Salmon – Latin: Oncorhynchus nerka)
Wild caught in Alaska and MSC certified sustainable. Traditionally, fresh packed whole fillets, including skin and tender bones which provide you with calcium and omega-3s. Exclusively available at Costco.
See Nutritional Information
Sockeye salmon measure 18 to 31 inches in length and weigh 4-15 pounds.
Sockeye salmon spend 1-4 years in fresh water and 1-3 years in the ocean.
Sea-going sockeye salmon have iridescent silver flanks, a white belly, and a metallic green-blue top, giving them their "blueback" name.
As sockeye salmon return upriver to their spawning grounds, their bodies turn brilliant red and their heads take on a greenish color, hence their other common name, "red" salmon.
Sockeye salmon are found in cold waters of North Pacific Ocean – on the west coast of North America and on the east coast of Asia.
Product Features
12g of protein per 55g serving
Natural source of omega-3s
Low in saturated fat
Free of trans fat
Good source of calcium
Certified B Corp
Ocean Wise Recommended