Warm Tuna Melt Dip with Naan Bread
Ingredients
2 tbsp red onion, diced
2 large dill pickles, diced
1 stalk celery, diced
2 tbsp lemon juice
2 tbsp mayonnaise
2 cans (170g) Ocean's Flaked White Tuna, drained
½ cup cheddar cheese, grated
2 tbsp parsley, finely chopped
Salt and pepper to taste
Product Used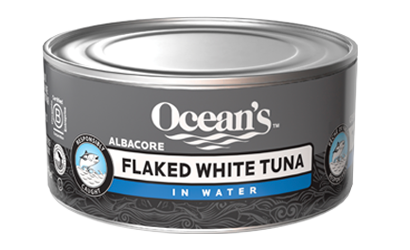 Flaked White Albacore Tuna
Directions
Preheat the oven to 375°F.
In a bowl, combine the red onion, dill pickles, celery, lemon juice, mayonnaise and tuna. Season with salt and pepper.
Transfer the mixture to an oven-safe baking dish or small cast-iron pan. Top with remaining cheddar.
Bake for 20-25 minutes or until the cheese is melted and bubbling.
Garnish with parsley and cracked black pepper. Serve with warmed naan bread, crackers or toast.
Recipe Reviews