Tuna Mini Pies
Ingredients
450g puff pastry

 

2 cans (170g) Ocean's Flaked Light Tuna, drained

 

3 tbsp mayo

 

⅛ cup red onion, thinly sliced

 

½ cup olives, thinly sliced

 

2 cups gouda, grated

 

1 egg, beaten   

 

1 tbsp fresh thyme, to garnish

 

Salt and pepper, to taste

 
Product Used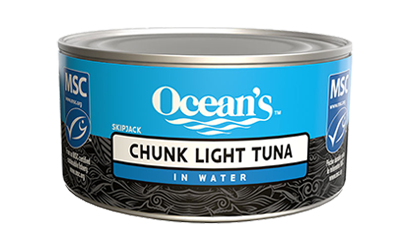 Chunk Light Tuna
Directions
Preheat the oven to 375°F. 

 

Lightly dust a countertop with flour and roll out the puff pastry until it is ⅛ inch thick. Cut into 24 even rectangles and place them onto 2 parchment-lined baking sheets. Place both trays in the freezer for 15 minutes. 

 

In a small bowl, mix the tuna, mayo, red onion and olives. Season with salt and pepper. 

 

Build your hand pies by adding the tuna mixture to the center of 12 pieces of the puff pastry and molding it to match the shape of the rectangle, leaving ~½ inch empty along the edges. Top each with gouda. 

 

Fill a small bowl with water. Use your fingertip to line water along the edges of one of the rectangles that has the filling. Top with another rectangle of puff pastry and press down along the edges to seal. Repeat this with the remaining 11 pieces. Place 6 hand pies on each tray. Use the prongs of a fork to press down along the edges of each piece to firmly seal. 

 

Brush each piece with egg, sprinkle with fresh thyme and season with salt and pepper. 

 

Bake for 18-20 minutes or until golden brown and crispy. 

 
This recipe makes 12 pies.
Recipe Reviews