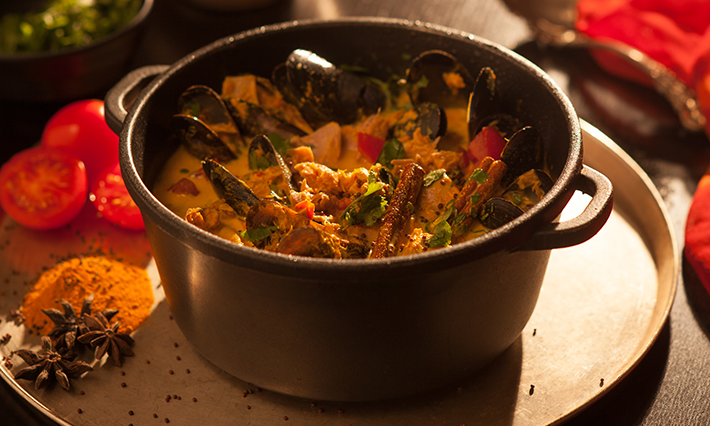 Tuna and Mussels in a Tomato Cream Curry
This rich curry will help warm you on those cold Fall or Winter days.
Ingredients
2 cans (120g) Ocean's No Drain Flaked Light Tuna In Water
2 ½ cups vegetable broth
4 cups water
1 oz ginger, in thin slivers
1 oz garlic, in thin slivers
1 small jalapeño pepper, chopped
1 tbsp black mustard seeds
1 tbsp salt
½ tsp turmeric
½ tsp paprika
1 ½ inch stick of cinnamon
½ cup whipping cream
30 mussels
2 finely chopped ripe tomatoes
Product Used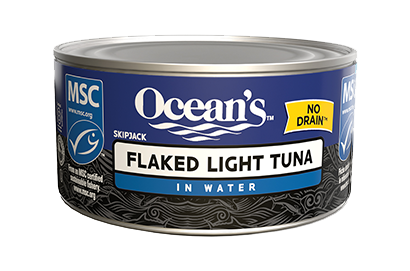 No Drain Flaked Light Tuna In Water
Directions
Combine the vegetable broth, water, ginger, garlic, jalapeno pepper, mustard seeds, salt, turmeric, paprika, and cinnamon in a large pot and stir well.
Place on medium heat and bring to a boil. Reduce the heat to low, but not to simmer. Cook curry, uncovered for 45 minutes, stirring occasionally. As it cooks, the smell of cinnamon should become stronger.
Turn off the heat, and allow curry to cool slightly for about 10 minutes.
Turn on the heat to medium, and add the whipping cream. Add salt to your taste.
Remove from heat, and set aside.
Wash mussels thoroughly and with a paring knife, scrape off any grit and grime on the shell.
Return curry to a boil on medium heat, then reduce heat to medium-low, and add tuna, gently stir, and cook for 1 minute. Add mussels, baby carrots and tomatoes. Stir gently and cover and cook for approximately 2-3 minutes.
Immediately remove the lid and turn off the heat. The mussels should be open.
Tips and Tricks
Fresh mussels can be substituted with 2 cans of Ocean's Baby Clams, drained.
Recipe Reviews