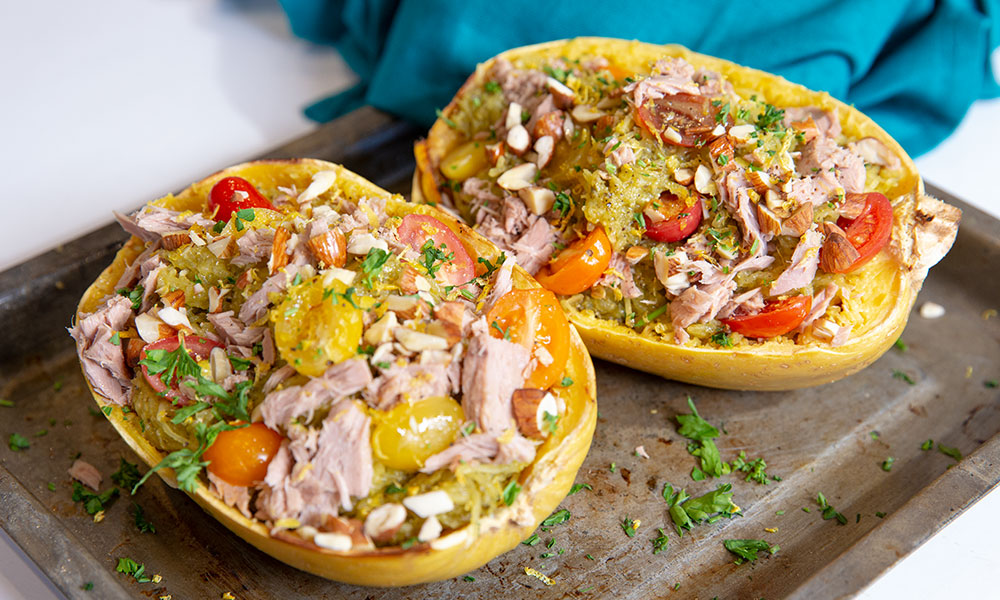 Spaghetti Squash With Pesto, Tuna And Toasted Almonds
Ingredients
FOR THE PESTO:
6 cups basil, loosely packed
¼ cup pine nuts, toasted
¼ cup cashews, toasted
2 garlic cloves, roughly chopped
½ cup parmesan, grated
1 lemon, juice
½ tsp salt
½ cup olive oil
OR
1 cup store-bought pesto
1 tbsp olive oil
1 spaghetti squash
1 can (170g) Ocean's Chunk Light Tuna
1 cup cherry tomatoes, halved
Cracked black pepper, to taste
½ cup toasted almonds, roughly chopped
1 lemon, zest
Product Used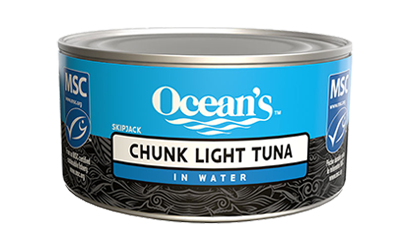 Chunk Light Tuna
Directions
Preheat the oven to 400°F.
Cut the spaghetti squash in half lengthwise. Use a metal spoon to scoop out the seeds. Drizzle with 1 tbsp olive oil and season with salt and pepper. Place it cut side down on a baking sheet and bake for 30-35 minutes or until squash is easily pierced with a fork. Remove from the oven, flip the squash over to prevent further cooking and set aside.
To make the pesto add the basil, pine nuts, cashews, garlic, parmesan, lemon juice and salt to a food processor and pulse several times until a chunky paste is formed. With the processor running on low, slowly drizzle in the ½ cup of olive oil. Season with salt and pepper. Taste and adjust seasoning if necessary.
Using a fork, shred the spaghetti squash widthwise and add to a mixing bowl.
Toss the spaghetti squash with the pesto. Top with tuna and cherry tomatoes.
Garnish with toasted almonds, lemon zest and cracked black pepper.
Recipe Reviews