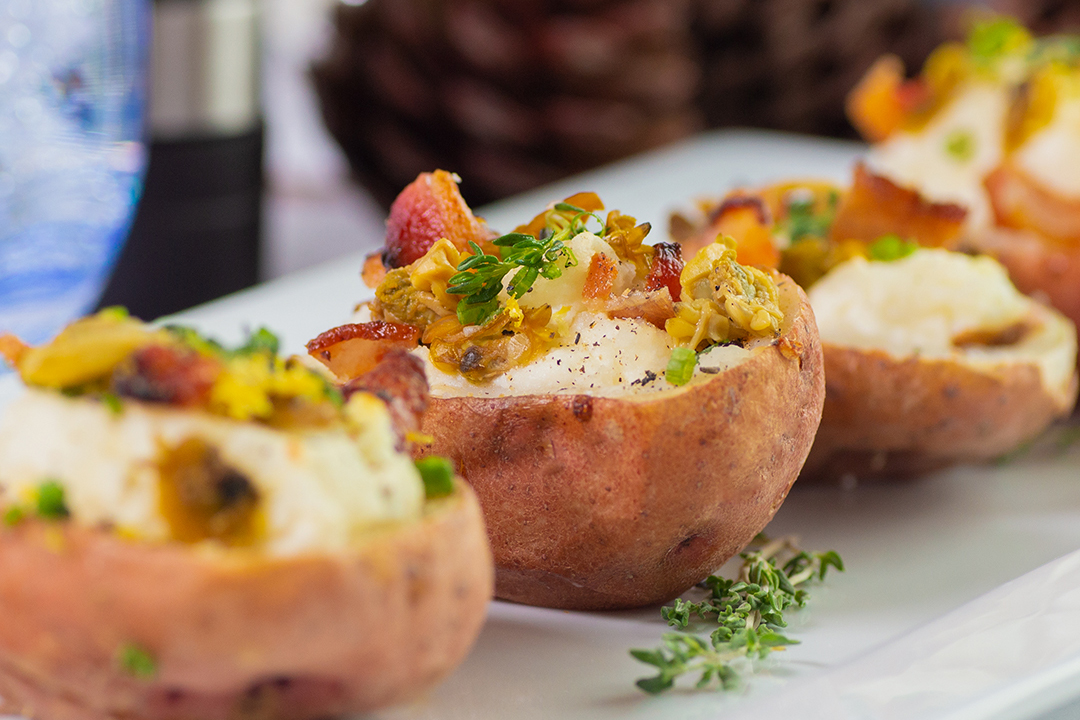 Clam Chowder Loaded Potato Skins
Clam chowder or loaded potato skins? Why not both! These 2 comfort foods come together in 1 warm dish that the whole family will love. Enjoy it as a side for a casual dinner during the week.
Ingredients
6 small red potatoes

4 oz diced pancetta

1 can (142g) Ocean's Baby Clams, drained – reserve your clam juice! 

1 small white onion, diced

2 garlic cloves, minced

4 oz goat cheese

½ cup greek yogurt

½ cup grated parmesan

2 tbsp lemon juice

2 tbsp reserved clam juice

½ tsp Worcestershire sauce

Fresh chives or thyme to garnish

Cracked black pepper to garnish
Product Used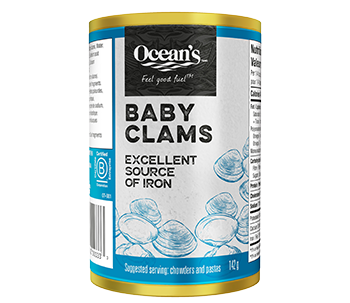 Baby Clams
Directions
Preheat oven to 400°F.

Pierce the potatoes with a fork and bake in the oven on a lined baking sheet. Bake for 35-40 minutes or until soft, turning once halfway through.

Heat a pan over medium-high heat. Cook pancetta until crispy. Remove from pan and place on paper towel. 

Heat 1 tbsp olive oil in a medium frying pan over medium-low heat. Sauté onion and garlic until soft. Remove from pan.

Once potatoes have cooled, cut in half lengthwise and scoop out the flesh, being careful not to break the skin. Add potato flesh to a bowl with the clams, cooked onion and garlic, goat cheese, yogurt, half of the parmesan, lemon juice, Worcestershire and ½ the pancetta. Season with salt, to taste. 

Put potato mixture back into the skins and top with remaining parmesan and pancetta. Bake for 10-15 minutes or until golden brown. Garnish with fresh chives or thyme and cracked black pepper.
Recipe Reviews