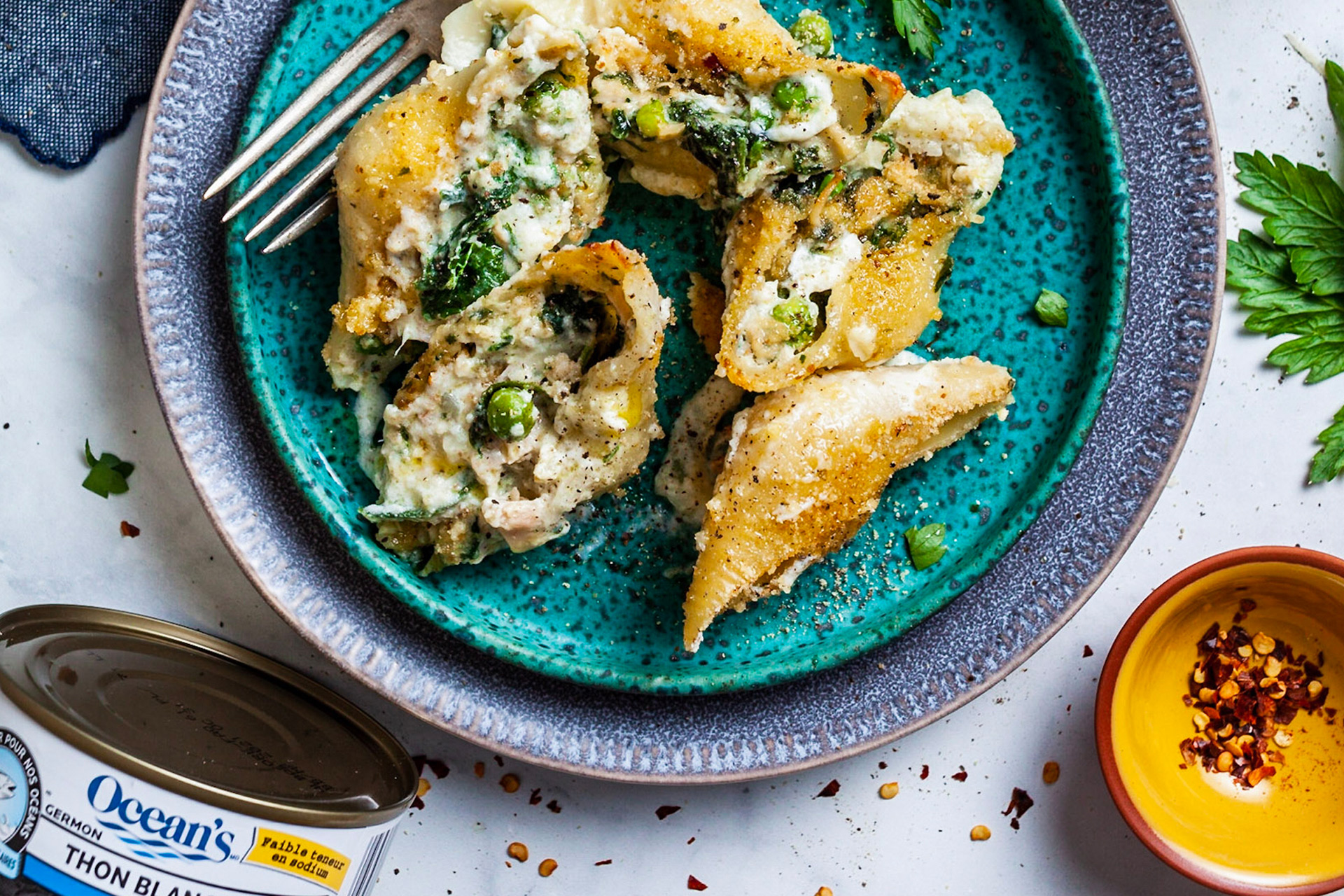 Cheesy Tuna Stuffed Pasta Shells
We have a new comfort food obsession. Stuffed pasta shells using Ocean's Solid White Albacore Tuna – Low Sodium is so good! It's comforting and so satisfying. This recipe was developed by Ocean's partner, Olive & Mango. Visit her website and follow her on Instagram!
Ingredients
3 tbsp extra-virgin olive oil

1 small yellow onion, diced

2 cloves of garlic, minced

½ tsp fresh or dried thyme

½ tsp red-pepper flakes (optional)

¼ cup all-purpose flour

4 cups whole milk

Salt and pepper to taste

½ cup bread crumbs 

¼ cup grated Parmesan cheese

½ tsp Italian seasoning

1 package (10 oz) frozen chopped spinach, thawed and excess liquid squeezed out

1 cup of frozen green peas

2 cans (170g) Ocean's Solid White Albacore Tuna – Low Sodium, drained and flaked

6 ounces jumbo pasta shells (about 20), cooked according to package instructions to be al dente
Product Used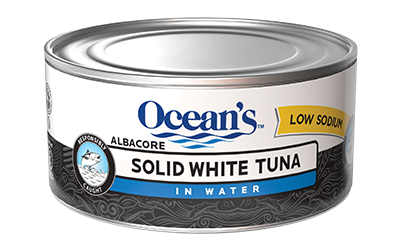 Solid White Albacore Tuna – Low Sodium
Directions
Preheat oven to 375°F.

In a medium pot, heat olive oil over medium heat and add onion, garlic, chili flakes and thyme and cook until onion is translucent and softened. Add flour and cook, stirring constantly, 1 minute. Gradually add milk, whisking constantly, and cook until slightly thickened and bubbling, about 3 minutes. Season with salt and pepper and remove from heat and set aside to allow sauce to cool slightly.
In a small bowl combine the bread crumbs, Parmesan cheese, and Italian seasoning. Transfer half the mixture to a large bowl and combine with spinach, green peas, tuna, and half of the sauce; check the seasoning and add more salt and pepper as needed. Fill each shell with the spinach mixture and place in a 9 x 13-inch baking dish. Top with remaining sauce and breadcrumb mixture. Bake until sauce is bubbling and breadcrumbs are golden, about 20-25 minutes.
Recipe Reviews