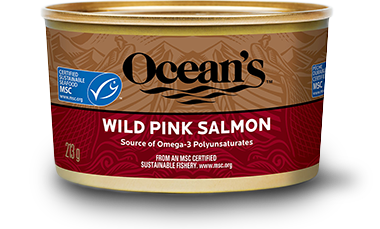 Wild Pink Salmon
(Pink Salmon – Latin: Oncorhynchus gorbuscha)
Wild Pink Salmon is lighter in colour and softer in texture than sockeye salmon. Traditionally packed as a whole piece of fish with skin and bones, our wild salmon is one of the highest, non-dairy sources of calcium. Exclusively available at Costco.
See Nutritional Information
Pink salmon are found throughout the coastal cold waters of the North Pacific Ocean, Arctic Ocean and nearby seas.
Pink salmon are the most numerous and the smallest of the Pacific salmon weighing on average between 3.5 and 5 pounds, with an average length of 20-25 inches.
Pink salmon also have the shortest lifespan completing their entire life cycle in two years.
Product Features
MSC Certified
13g of protein per 55g serving
Natural source of omega-3s
Low in saturated fat
Free of trans fat
Good source of calcium
Certified B Corp
Ocean Wise Recommended