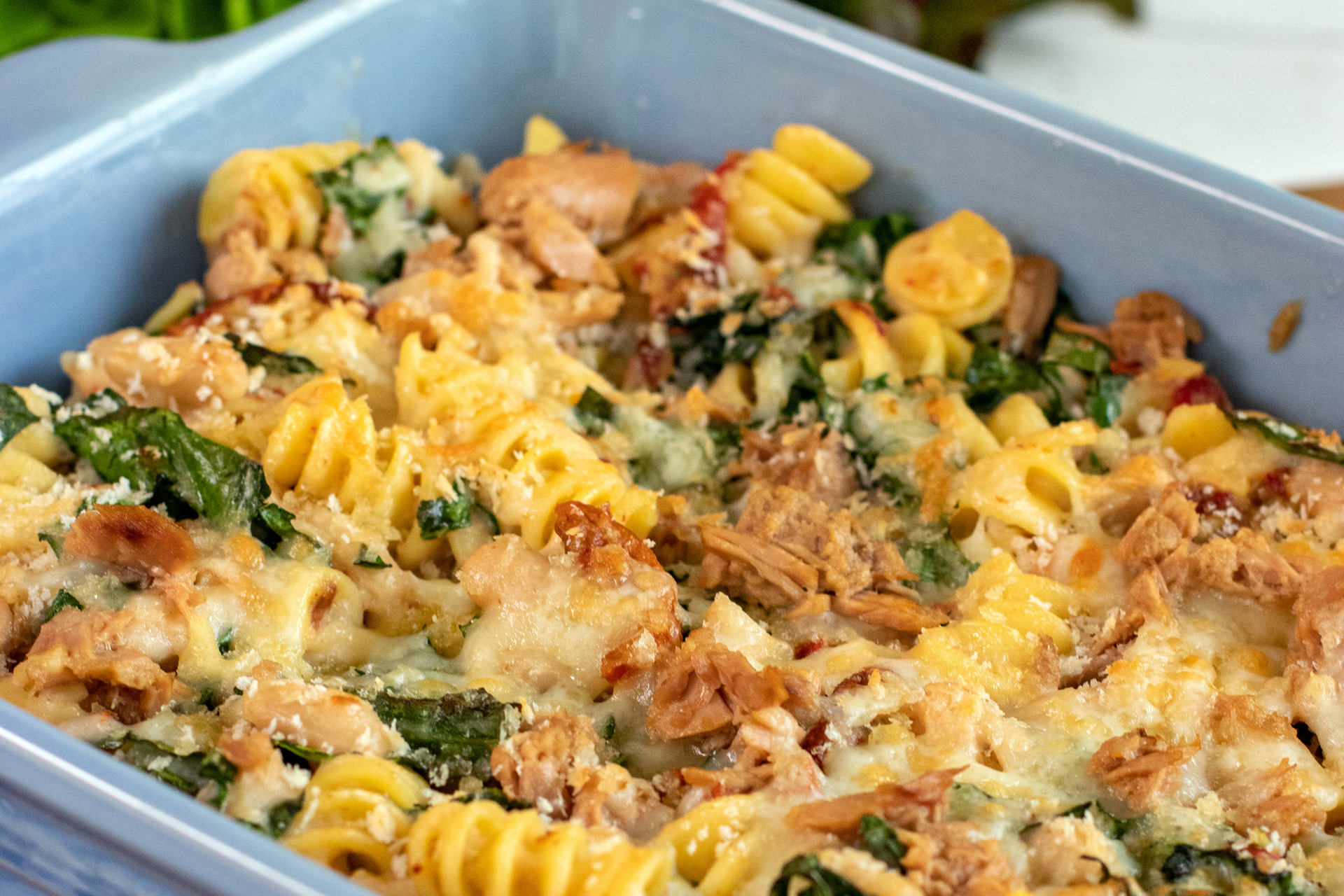 Tuscan Tuna Casserole
When you open up the dictionary and search for "comfort food", this Tuscan Tuna Casserole is what comes up first. Not sure why you are still reading this post, make this recipe for dinner tonight!
Ingredients
SAUCE:
1 tbsp butter

2 tbsp flour

1 ½ cups 2% milk

¼ cup pasta cooking water

1 cup + ½ cup shredded mozzarella 
CASSEROLE:
2 tbsp + 1 tbsp olive oil

1 shallot, minced

1 cup white kidney beans

3 tightly packed cups dino kale, thinly sliced

¼ cup oil-packed sun-dried tomatoes, drained and sliced

4 cups rotini noodles, cooked (reserve ¼ cup of pasta cooking water for sauce)

3 cans (80g) Ocean's Solid Light Tuna in Olive Oil

2 tbsp panko breadcrumbs

Coarse salt and freshly cracked black pepper to taste

Fresh parsley, chopped
Product Used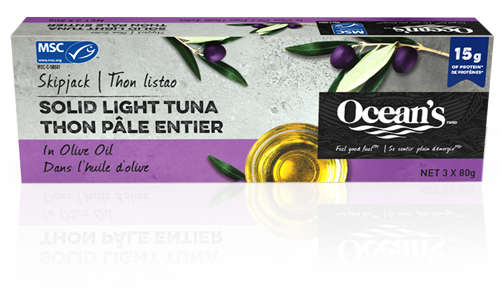 Solid Light Tuna in Olive Oil
Directions
Preheat oven to 400°F. Line an 8 x 11-inch baking dish with tin foil, or spray with cooking oil and set aside. 

Start the sauce by making a roux. Melt the butter on medium and then add the flour stirring so it doesn't burn. Cook until golden brown and fragrant, 2-3 mins.

Turn heat down to medium and add milk, whisking to dissolve the roux. Bring it to a light bubble, stirring to make sure it doesn't burn. Add cheese and stir, allowing it to melt into the sauce. Cook until thickened, approx 5 minutes. Remove from heat.  

Meanwhile, in a large pan, heat olive oil on medium-high. Add shallots and cook until translucent, approx 3 minutes. Add beans, kale and sundried tomatoes and sauté until kale is wilted.

Add noodles, tuna and sauce and stir to coat everything evenly. Spoon into baking dish

Sprinkle with remaining cheese, bread crumbs and drizzle with olive oil. 

Cover with foil and bake for 15 minutes. Turn the oven up to broil and remove the foil, returning the dish to the oven for 5 more minutes. Keep an eye on it to make sure the cheese doesn't burn. Remove when bubbly and golden brown. Top with parsley and serve. 
Recipe Reviews