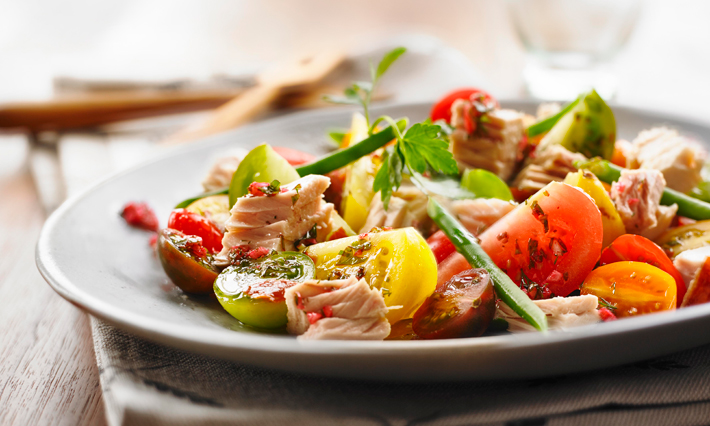 Tuna, Tomato, and Fresh Green Beans Salad
An easy-prep salad with a garlic oil-vinegar base that complements the tomatoes and beans.
Ingredients
1 can (130g) Ocean's No Drain Solid Light Tuna With Sunflower Oil
6 medium tomatoes, cut into wedges
2 cups green beans, trimmed and cut into 2-inch pieces
3 tbsp fresh savoury, chopped
1 tbsp chopped fresh thyme
2 cloves of garlic, minced
2 tbsp sherry vinegar
¼ cup extra virgin olive oil
1 ½ cups yellow and orange cherry tomatoes, cut in halves
Salt and pepper
Product Used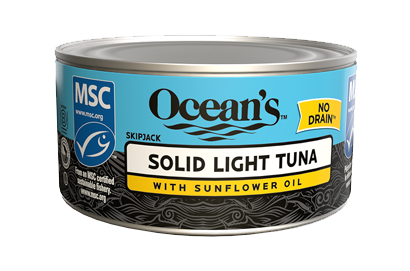 No Drain Solid Light Tuna With Sunflower Oil
Directions
Put a large pot of salted water on to boil.
Place tomato wedges in a colander and sprinkle with 1 tsp of salt and set aside.
When the water comes to a rolling boil, add the beans and cook for 4 minutes until tender and still have a crunch. Remove from hot water, run under cold water and leave to drain.
In a small bowl, whisk together the chopped savoury, garlic, vinegar and slowly drizzle in the olive oil until combined. Season with salt and pepper.
Combine the tomato wedges, cherry tomatoes and the beans in a bowl then drizzle with the vinaigrette, toss. Transfer to a shallow serving bowl or platter, sprinkle with tuna chunks and serve.
Tips and Tricks
Beans are high in vitamin B and K. Always use fresh ones if you can get them. If you can't find savoury, use thyme.
Recipe Reviews