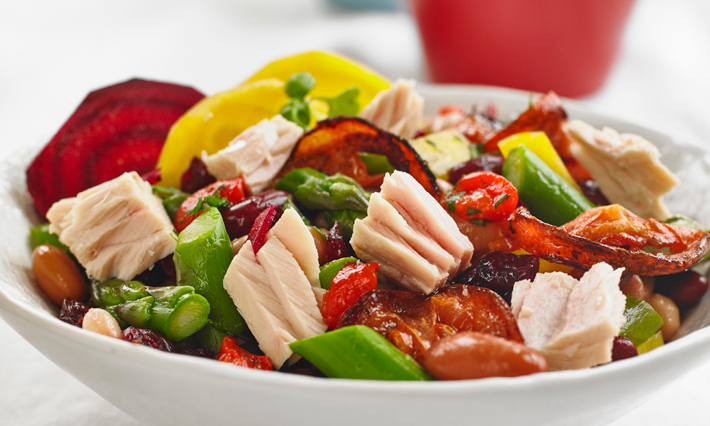 Tuna, Roasted Beets and Asparagus Salad
Ingredients
2 cans (130g) Ocean's No Drain Solid Light Tuna With Sunflower Oil
4 tomatoes sliced ¼-inch thick
½ cup asparagus, blanched and chopped
1 cup sliced red beets
1 cup sliced golden beets
½ cup canned bean medley
¼ cup roasted red peppers sliced
½ cup dried cranberries
1 tbsp fresh basil chopped
4 tbsp olive oil
Juice of one lemon
Salt and pepper to taste
Product Used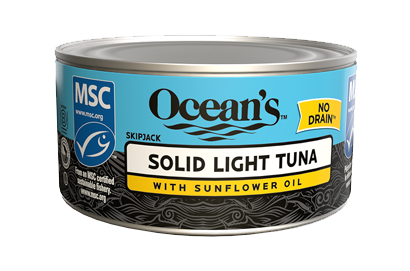 No Drain Solid Light Tuna With Sunflower Oil
Directions
Preheat oven to 250°F.
Line a cooking sheet with parchment paper and place a single layer of sliced tomatoes over the paper and place in oven for about 2 hours. They should look dehydrated when you remove them, not burnt, so keep an eye on them. Remove from oven and let cool.
Slice beets and place on a cooking sheet in the oven for about 15 minutes, or until cooked through. Remove and let cool down.
Blanch asparagus in boiling water for about 1 minute, remove from hot water and place in cool water to stop cooking for 5 minutes. Remove from water and pat dry. *Can be made a day ahead up to this point.
In a small bowl whisk together basil, olive oil, lemon juice, and set aside.
In a large bowl, combine the tomatoes, beets, asparagus, beans, pepper, cranberries and tuna, pour the basil dressing over salad and stir together.
Season with salt and pepper and serve on a large platter.
Tips and Tricks
If you don't like asparagus use sweet peas.
Recipe Reviews