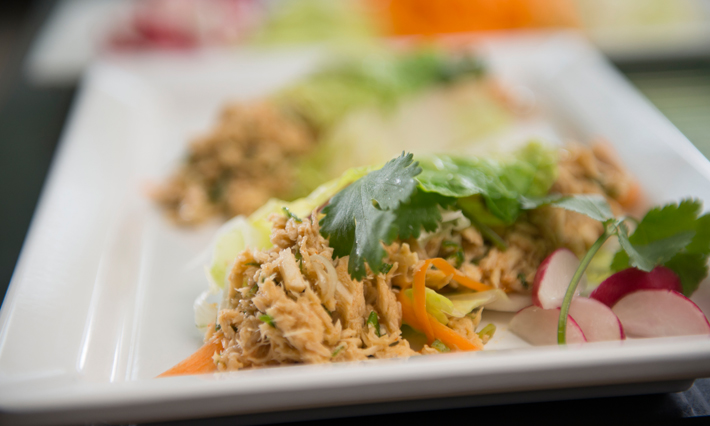 Tuna Cabbage Wraps
This gluten free wrap is a real crowd pleaser!
Ingredients
2 cans (130g) Ocean's No Drain Solid Light Tuna With Sunflower Oil
½ cup thinly sliced green onions
½ tbsp paprika
1 tbsp olive oil
16 cabbage or raw romaine leaves
½ cup carrots, peeled and cut into threads with a vegetable peeler
6 radishes cut into small wedges
½ bunch cilantro, chopped
½ cup cucumbers, peeled and sliced thinly
¼ cup red onion, sliced thinly
½ cup low sodium soy sauce
2 tbsp brown sugar
3 tbsp mayonnaise
1 lime, juiced
1 tbsp soya sauce
1 tbsp chilli paste or hot sauce of your choice
Product Used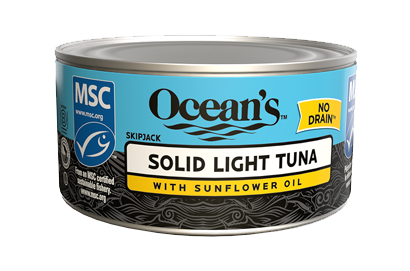 No Drain Solid Light Tuna With Sunflower Oil
Directions
Bring a pot of water with a little salt, to a boil. Fill a separate bowl with ice water and set aside. Cut the firmer white part off the base of the cabbage leaf, slice thinly and transfer to a plate.
Blanch the green part of the cabbage leaves in salted water until they turn bright green, approximately 30 seconds. Immediately transfer to ice water and cool fully. Drain well, and set aside.
Slice carrot, radish, cilantro, cucumber and red onion as directed and place into a mixing bowl. Add tuna, green onions, paprika and olive oil and toss all ingredients together.
Add both soy sauce and brown sugar to a small pot, and bring to a simmer until it slightly thickens. Place in a serving bowl and allow to cool.
In another serving bowl, whisk together mayonnaise, lime juice, soya sauce, and chili paste.
To assemble your wrap: top the cabbage leaves with the tuna and vegetable mixture, then top with the sweet soy sauce and mayonnaise blend.
Tips and Tricks
Instead of in a cabbage wrap, you can also use the tuna mixture as a topping on your favourite salad!
Recipe Reviews