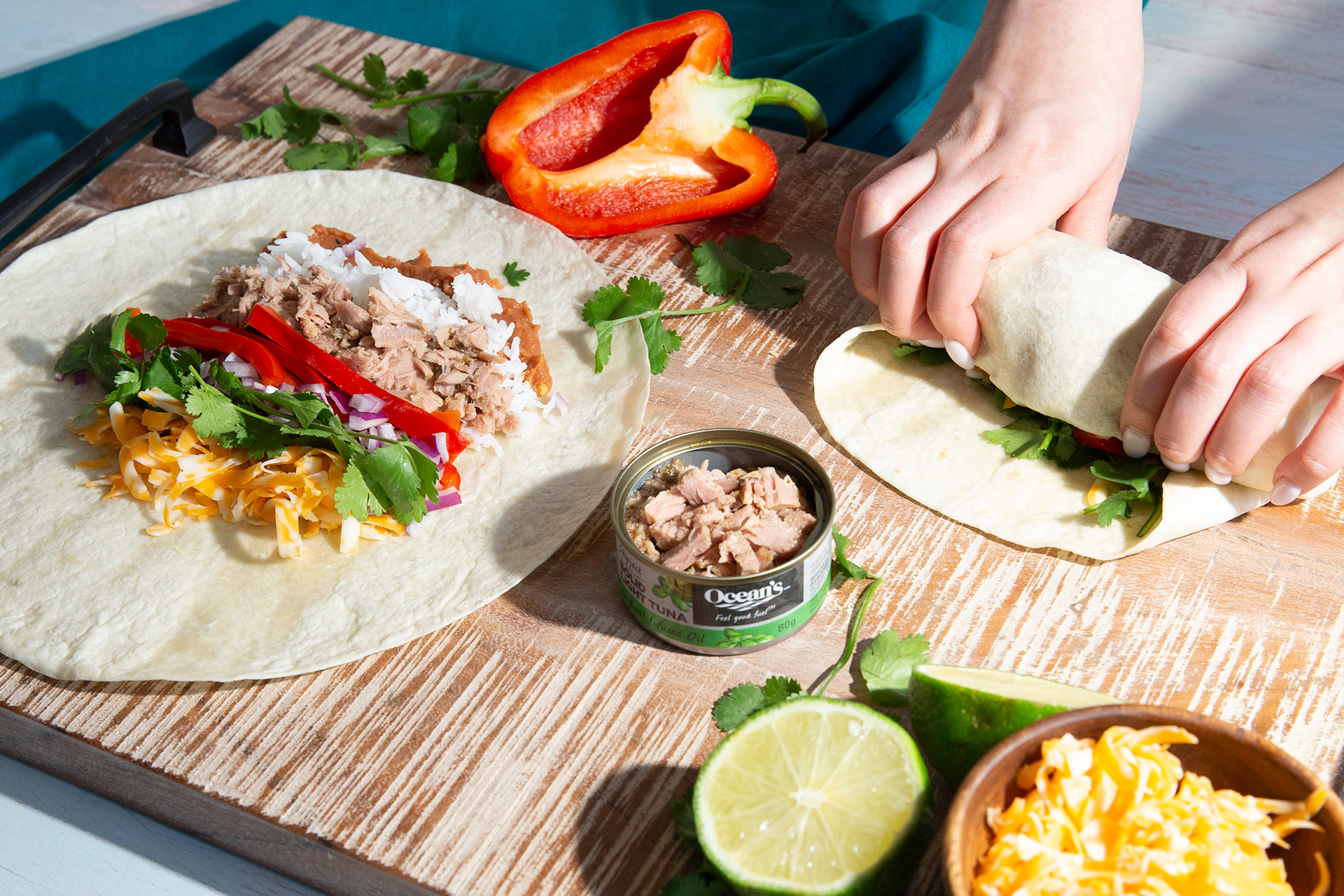 Tuna Burrito
Ingredients
4 large flour tortillas

6 cans (80g) Ocean's Solid Light Tuna in Olive Oil, drained

1 tbsp ground cumin

1 tbsp chili powder

1 lime, juiced

1 tbsp oil

1 red onion, thinly sliced

2 bell pepper, thinly sliced

2 garlic cloves, thinly sliced

1 cup canned refried beans 

2 cups cooked rice

2 cups cheddar cheese, grated

¼ cup cilantro, roughly chopped

½ cup sour cream

½ cup salsa

Salt and pepper to taste
Product Used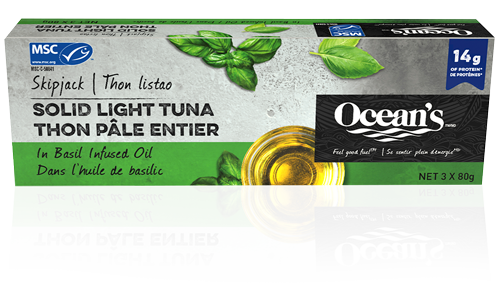 Solid Light Tuna in Basil Infused Oil
Directions
Preheat the oven to 350F. 

In a small bowl, mix the tuna with the cumin, chili powder and lime juice.

Heat the oil in a large pan over medium-high heat. Add the onions and peppers and cook for ten minutes or until softened and a bit charred. Don't stir too often. Turn the heat down to medium-low, add the garlic and cook for 2 minutes longer. Season with salt and pepper. 

To build the burritos, divide the refried beans evenly amongst the tortillas. Top with the rice, tuna, sauteed peppers and onions, cheese and cilantro. 

To wrap the tortillas, fold the bottom of the tortilla up and over the filling. Roll it in tightly towards yourself. Fold up the two sides on either end and finish firmly rolling the burrito to the top. 

Add the burritos seam side down to a baking dish and cover with tinfoil. Bake for 20 minutes. Remove from the oven and let cool for 5 minutes. 

Cut each burrito in half and serve with sour cream and salsa.
Recipe Reviews