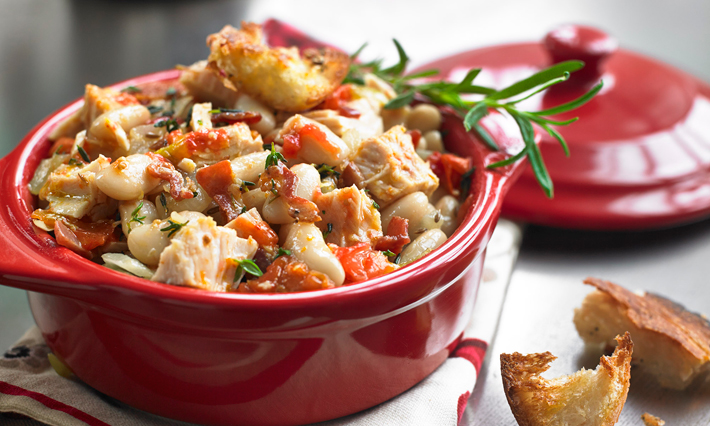 Tuna and White Bean Cassoulet
A hearty French country classic gets a bold new spin and still keeps its rustic roots.
Ingredients
1 can (130g) Ocean's No Drain Solid Light Tuna With Sunflower Oil
1 cup white kidney beans, soaked in water overnight in the fridge, then drained
¼ bunch fresh thyme
1 tbsp fennel seeds, whole
3 cups water
100g smoked pancetta, diced
¼ cup shallots, diced
1-2 tbsp garlic, diced
1 cup chicken stock
½ lemons juiced
Fresh thyme, chopped
½ cup fennel, diced
French baguette, torn into pieces
¼ cup extra virgin olive oil
½ tbsp kosher salt
½ tbsp ground black pepper
Product Used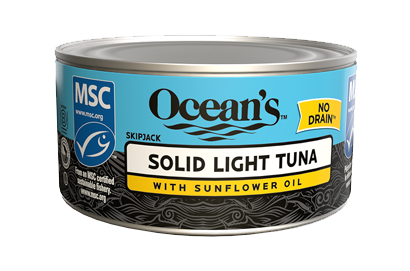 No Drain Solid Light Tuna With Sunflower Oil
Directions
Place beans, thyme, fennel seeds and water in a pot and bring to boil. Reduce to a simmer and cook for approximately 1 hour or until beans are tender. Remove thyme sticks and drain, making sure to keep the fennel seeds in the mix.
Preheat a cast iron skillet to medium heat. Sauté chopped pancetta until browned and then add shallots and garlic and allow to brown. Add chicken stock and drained beans and simmer for 5 minutes. Add diced fennel, lemon juice and fresh thyme and stir.
Add tuna in large chunks and stir very gently to retain texture as much as possible. Serve hot in skillet with crunchy baguette and green fronds from the top of the fennel bulb for garnish.
Tips and Tricks
FOR THE BAGUETTE:
Preheat oven to 350°F degrees. Place bread on a tray, drizzle with olive oil and then sprinkle with salt and pepper. Toss well and bake in oven for 28 minutes or until it becomes dark brown. Remove and set aside.
Recipe Reviews