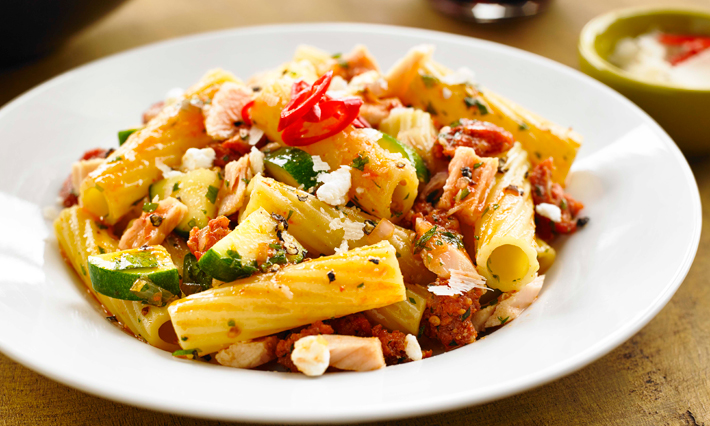 Tuna and Sausage Rigatoni
A spicy Italian pasta dish that provides a great source of protein.
Ingredients
2 cans (130g) Ocean's No Drain Solid Light Tuna With Sunflower Oil
1 package dried rigatoni pasta
3 tbsp extra virgin olive oil
340 g spicy Italian sausage, casings removed
½ cup shallots, finely chopped
2 yellow & green summer squash, inch-diced
¾ cup fresh goat cheese, crumbled
2 tbsp flat-leaf parsley, finely chopped
¼ cup parmigiano-reggiano
Product Used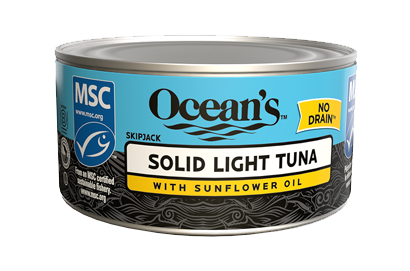 No Drain Solid Light Tuna With Sunflower Oil
Directions
Bring a large pot of salted water to a boil and cook rigatoni until al dente.
While pasta cooks, heat a large non-stick fry pan over medium-high heat and sauté off sausage breaking it apart as it cooks in olive oil, for 3-5 minutes. With a slotted spoon remove sausage and excess oil from the pan.
Put the pan back on the heat and sauté shallots for 3 minutes just until they begin to soften, add squash to the shallots and sauté for 3 more minutes.
Remove pasta from the stove and drain, keeping one cup of pasta water to one side.
Put pasta back into the pot and add sausage, goat cheese, summer squash shallot mixture, parsley and tuna, and stir well. Add pasta water into mixture, mix well and season with salt and pepper. Serve in four pasta bowls and garnish with parmigiano-reggiano.
Tips and Tricks
Use a sweet sausage if you don't like the spice. Roasted red peppers really brighten the final plating of this dish, add one or two slices to the top before the cheese.
Recipe Reviews