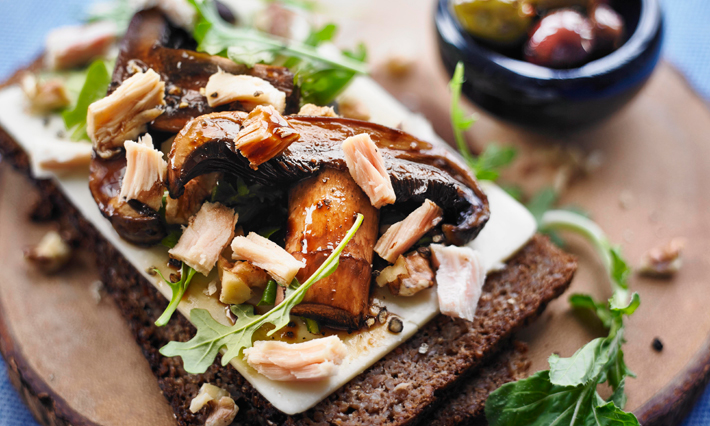 Tuna and Grilled Portobello Open Face Sandwich
Perfect for a quick snack or a smorgasbord get together.
Ingredients
2 cans (120g) Ocean's No Drain Flaked Light Tuna In Water
4 portobello mushrooms, black gills cleaned away
5 tbsp extra virgin olive oil
4 cups baby arugula, washed and dried
¼ cup chopped roasted walnuts
4 oz gruyere cheese, shaved into thin slices
4 slices pumpernickel (or your favourite) bread
Product Used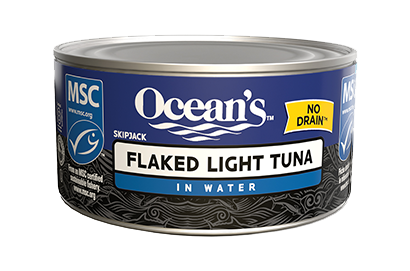 No Drain Flaked Light Tuna In Water
Directions
Preheat the grill to medium-high heat.
In a large bowl mix olive oil and mushrooms together and season with salt and pepper. Place mushrooms on the grill and cook for 3-5 minutes, turning once until they begin to tender. Remove from the grill and cut into 1-inch slices.
To roast the walnuts: preheat oven to 350°F and place walnuts on a baking sheet. Roast on the center rack for 5-7 minutes until they turn golden brown.
Place pumpernickel bread slices on a large serving platter. Add cheese, mushrooms, and arugula. Sprinkle tuna and fresh pepper on top. Garnish with toasted walnuts and a splash of olive oil.
Tips and Tricks
Add a touch of your favourite mustard on the bread for more flavour and to keep the open face sandwich together.
Recipe Reviews