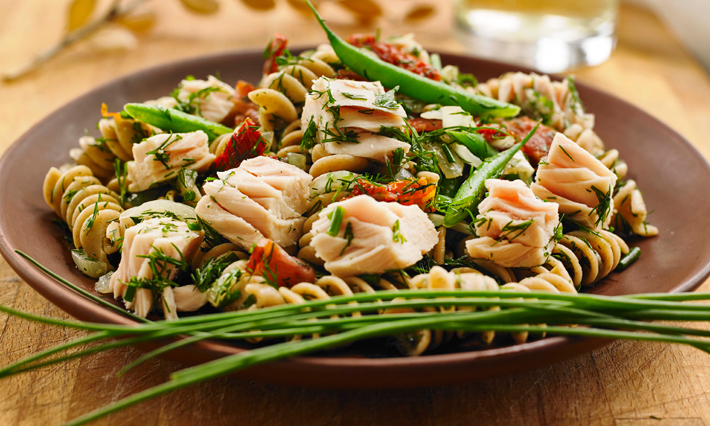 Tuna and Bacon Pasta
Bacon and blue cheese elevate this yummy pasta to a taste that's anything but everyday.
Ingredients
2 cans (120g) Ocean's No Drain Flaked Light Tuna In Water
2 onions, finely diced
1 cup doubled smoked bacon, diced
2 cloves of garlic, minced
¼ cup sundried tomatoes, sliced
½ cup low-fat mayonnaise
½ cup low-fat sour cream
1 cup blue cheese, crumbled
1 lemon juice
¼ cup chives, chopped
1 cup blanched green beans, sliced
1 pkg fusilli
¼ cup fresh dill, finely chopped
½ cup grated parmesan cheese
Product Used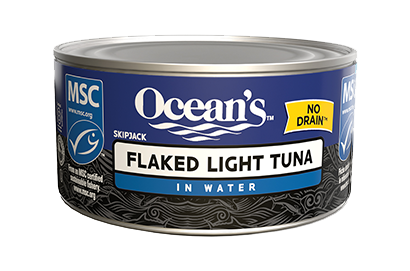 No Drain Flaked Light Tuna In Water
Directions
In a large non-stick frying pan over medium-high heat, sauté onions, bacon, garlic and tomatoes for 7-9 minutes, until onions begin to soften.
In a separate bowl combine, mayonnaise, sour cream, blue cheese, lemon juice and chives. Mix well and set aside.
To blanch off the green beans, bring a large pot of salted water to a boil, add beans and cook for 3-4 minutes. Drain, cool in cold water, and set aside.
In a large pot of boiling water, cook pasta for 4-5 minutes and then drain the water.
In the same pot with the pasta, add the tuna, bacon mixture, dill, green beans, and the blue cheese mixture, and stir until well combined.
Place on the center of the plate, and top with parmesan cheese.
Tips and Tricks
You can use gluten free pasta instead of regular pasta. Substitute the blue cheese with any other flavourful cheese.
Recipe Reviews