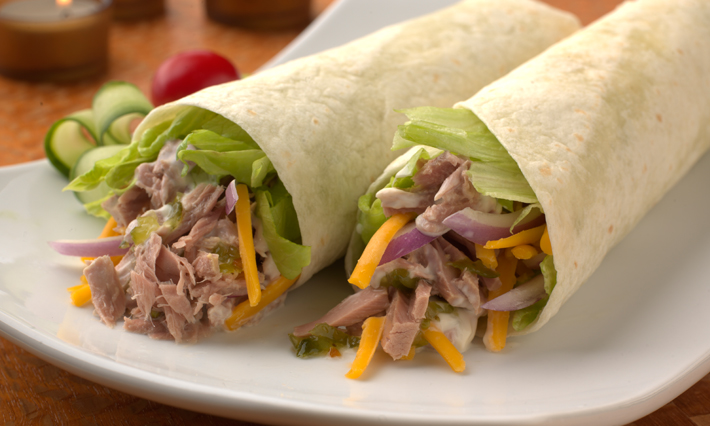 Tortilla Roll With Tuna Salad, Shredded Lettuce and Cheddar
Kids bored of sandwiches? Try these rolls instead. Tasty, nutritious, and super-quick to prepare.
Ingredients
1 can (120g) Ocean's No Drain Flaked Light Tuna In Water
3 tbsp mayonnaise
1 tbsp sweet green relish
½ red onion, julienned
½ cup extra virgin olive oil
2 cups shredded lettuce
½ cup grated cheddar cheese
4 large tortillas
Product Used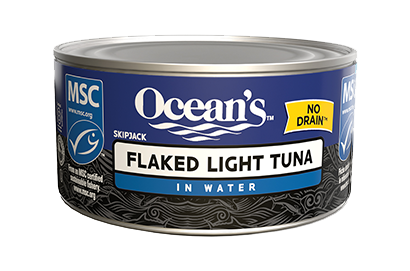 No Drain Flaked Light Tuna In Water
Directions
Combine tuna, mayonnaise, relish and red onion in a small mixing bowl and season with salt and pepper.
Lay tortilla on a clean cutting board.
Place ½ cup lettuce along closest edge; top with ¼ of the tuna mixture and ¼ of the cheese.
Fold edge over filling and squeeze gently to form a compact log.
Fold one end of the tortilla about 1-inch over the log to form a bottom to the tortilla pocket. Continue to roll the tortilla into a compact cylinder.
Place the tortilla seam down on a plate and repeat with the remaining ingredients.
Tips and Tricks
For a lower fat and sodium-reduced version, use low fat cheese and replace mayonnaise with yogurt.
Recipe Reviews