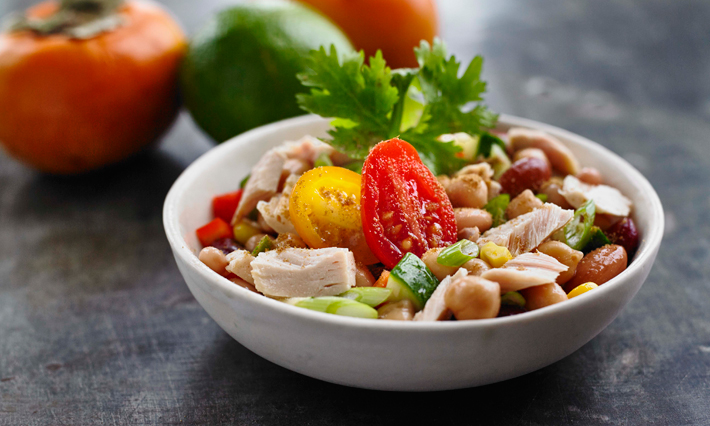 Southwest Tuna Salad
The taste of Mexico gets a West Coast twist in this hearty salad loaded with protein.
Ingredients
2 cans (120g) Ocean's No Drain Flaked Light Tuna In Water
2 tsp ground cumin
¼ tsp ground coriander
½ tsp ground cinnamon
1 green zucchini, finely diced
1 clove garlic, minced
4 tbsp extra virgin olive oil
1 can six bean medley, drained
1 cup grape tomatoes, cut in half
1 cup frozen corn, thawed
1 red pepper, finely diced
½ cup green onions, finely sliced
¼ cup fresh orange juice
2 tsp honey
½ cup toasted pine nuts
¼ cup cilantro, finely chopped
Product Used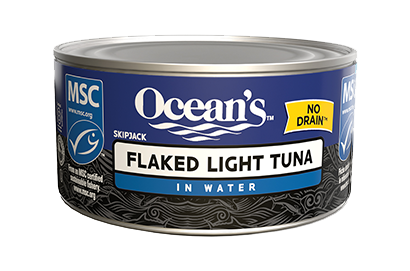 No Drain Flaked Light Tuna In Water
Directions
In a large pan over medium-high heat add 2 tbsp of the olive oil, the cumin, coriander, cinnamon and stir well for 1 minute.  Add the zucchini and garlic, and sauté for another minute. Set aside.
In a large bowl add the remaining olive oil, beans, tuna, tomatoes, corn, red pepper, green onions, orange juice, lime juice, honey, and pine nuts and stir until well combined.
Add the sautéed zucchini mixture, and combine completely.  Season with salt and pepper and garnish with cilantro.
Tips and Tricks
Keep the cilantro stems too, cut roughly into large pieces and add as garnish. Remember the main flavour of the cilantro is in the stems.
Recipe Reviews