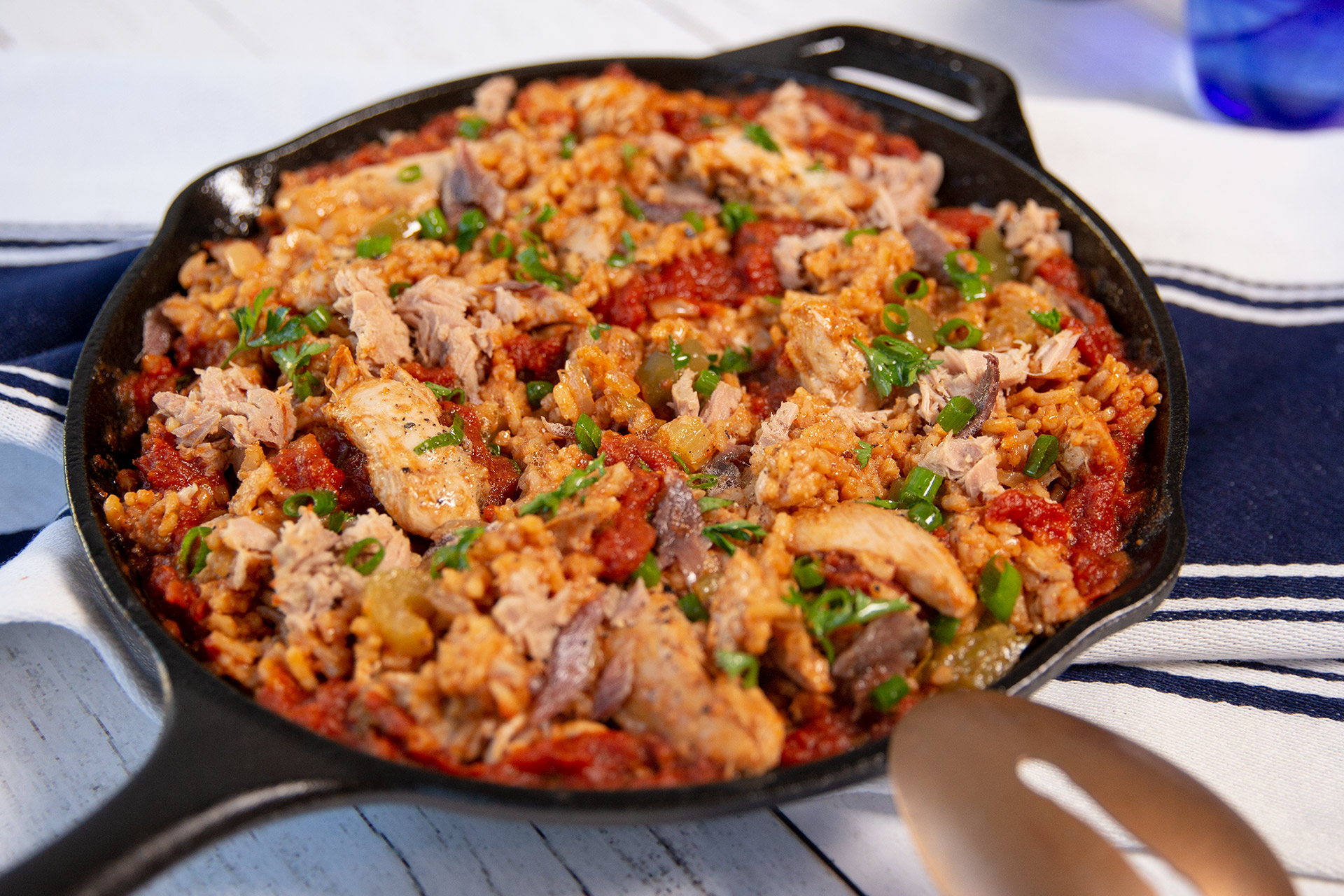 Jambalaya
Ingredients
2 tbsp olive oil
4 boneless skinless chicken thighs, roughly chopped
1 small white onion, diced
3 garlic cloves, minced
2 stalks celery, diced
1 carrot, diced
1 red pepper, diced
1 green pepper, diced
1 tbsp smoked paprika
½ tsp cayenne pepper
1 tbsp dried oregano
1 tsp dried thyme
1 tsp onion powder
3 cups chicken stock
1 tbsp Worcestershire
1 ½ cup white rice, rinsed well and drained
3 cans (80g) Ocean's Tuna in Olive Oil, drained
4 scallions, thinly sliced
Salt and pepper to taste
Product Used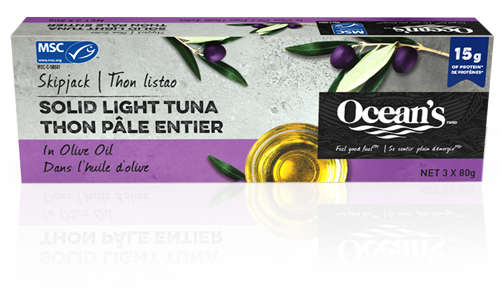 Solid Light Tuna in Olive Oil
Directions
Heat 1 tbsp of the oil in a large skillet or pot over medium-high heat.
Add the chicken and sear on both sides. Remove and set aside. It does not need to be fully cooked as it will be added back in later. Do not clean the pan.
Heat the remaining oil in the same skillet over medium-low heat.
Add the onion, garlic, anchovy, celery, carrot and bell peppers and stir. Cook for 5 minutes or until softened
Add the smoked paprika, cayenne pepper, oregano, thyme and onion powder. Season with salt and pepper and cook until the spices become fragrant, approximately 3 minutes.
Add the Authentica sauce, chicken stock, Worcestershire and rice and stir to combine.
Bring to a boil. Once boiling, turn the heat down to a low simmer, stir again and cover the pot. Cook for 20 minutes or until the rice has absorbed the liquid. Stir occasionally to ensure the rice isn't burning on the bottom of the pan. In the last five minutes, add the tuna to the pot.
Remove from heat and garnish with cracked black pepper and scallion.
Recipe Reviews