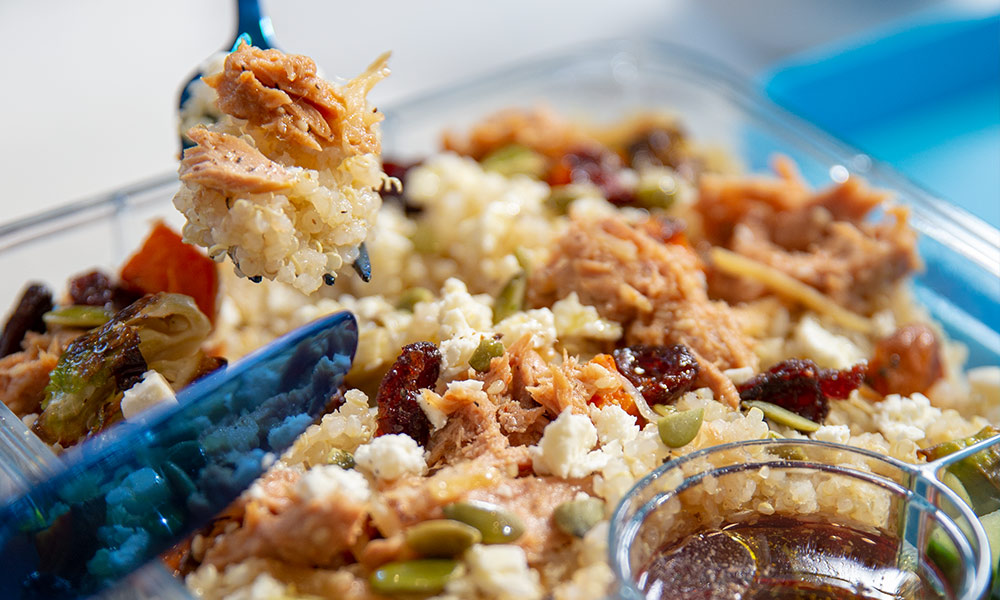 Basil Tuna and Quinoa Salad
Ingredients
3 cans (80g) Ocean's Solid Light Tuna in Basil Infused Oil, drained

1 cup quinoa, cooked

 

3 tbsp olive oil

 

1 tbsp toasted sesame oil

 

1 lemon, juiced

 

1 small sweet potato, small cubes

 

10 brussel sprouts, bottoms removed and quartered

 

⅛ cup dried cranberries

 

¼ cup feta

 

¼ cup toasted pumpkin seeds

 

Salt and pepper to taste

 
Product Used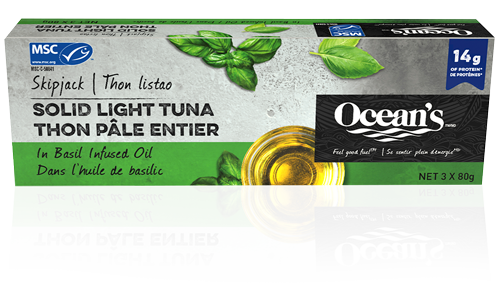 Solid Light Tuna in Basil Infused Oil
Directions
Preheat the oven to 400°F.

Cook the quinoa in salted water according to package directions.

Toss the sweet potatoes and brussel sprouts in a bowl with the 2 tbsp olive oil and season with salt and pepper. Arrange in a single layer on a baking sheet and roast for 20 minutes, tossing halfway through.

 

Add the quinoa, sweet potato, brussel sprouts, dried cranberries, feta and pumpkin seeds to a bowl. Drizzle with remaining olive oil and lemon juice and season with salt and pepper. Toss to combine. Top with the Basil Infused Tuna.

 
Recipe Reviews