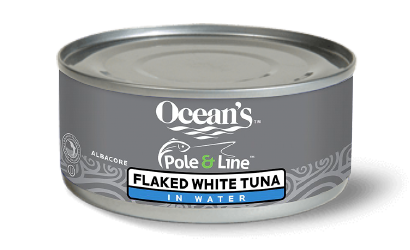 Pole & Line Solid and Flaked White Albacore Tuna
Caught one-by-one to keep other species safe, our Albacore Tuna is an excellent, ocean-friendly protein option.
See Nutritional Information
Ingredients
Albacore tuna
Water
Sea salt
Sodium Acid Pyrophosphate
Product Features
13g of protein per 55g serving
Low in fat
Low in saturated fat
Free of trans fat
How Was it Caught?
Pole & Line is a highly selective fishing method we use to keep other sea creatures safe.
Track This Product