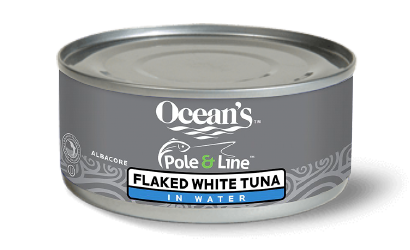 Pole&Line Solid and Flaked White Albacore Tuna
(Albacore tuna – Latin: Thunnus alalunga)
Caught with a single pole and line, to ensure we only catch the fish we want.
See Nutritional Information
Pole&Line fishing reduces harm to other sea life like sharks, dolphins, and sea turtles.
Accounts for 10% of the global tuna catch.
Characterised by local ownership, fishing closer to shore and for shorter lengths of time, which contribute to securing decent work conditions, providing livelihoods and incomes to small villages in Japan, Indonesia, and the Maldives.
Ingredients
Albacore tuna
Water
Sea salt
Sodium Acid Pyrophosphate
Product Features
13g of protein per 55g serving
Low in fat
Low in saturated fat
Free of trans fat
Responsibly caught
Dolphin friendly
Kosher
Certified B Corp
Wild caught
Ocean Wise Recommended
How Was it Caught?
Pole & Line is a highly selective fishing method we use to keep other sea creatures safe.
Track This Product