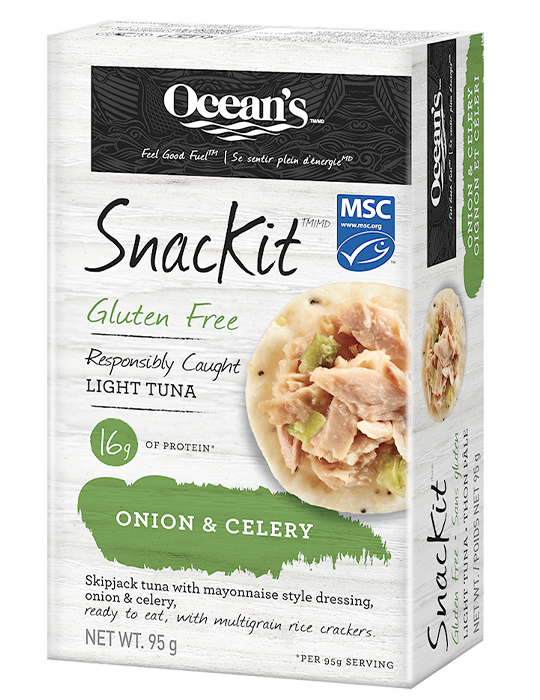 Onion & Celery Light Tuna SnacKit™
(Skipjack – Latin:  Katsuwonus pelamis)
A delicious blend of our sustainable Skipjack tuna, mayonnaise style dressing, mild onions, and crisp celery. Multigrain rice crackers make it a convenient gluten-free snack.
See Nutritional Information
Skipjack tuna is one of the smaller species of tuna with an average weight of 3 kg. It is distinguished by the presence of four to seven dark, longitudinal stripes on their bellies. They have silvery flanks and short fins.
Caught via purse seine fishing in the Pacific and Indian oceans.
Our skipjack is caught without the use of Fish Aggregating devices which significantly reduces the risk of catching other fish and sea life.
Tuna Ingredients
Skipjack tuna

Water

Vinegar

Sugar

Onion

Celery

Modified tapioca starch

Rice bran oil

Whole egg powder

Modified waxy maize starch

Sea salt

White pepper

Onion oil flavour

Xanthan gum


Guar gum
Cracker Ingredients
Jasmine rice

Brown rice

Palm oil

Chia seed

Sesame seed

Millet seed

Salt

Maltodextrin

Yeast extract

Tocopherols
Product Features
MSC Certified sustainably caught

Gluten-free

16g of protein per serving

Zero trans fat

Responsibly caught

Certified B Corp
Ready to eat out of the box
Classroom friendly
Dolphin friendly
No titanium dioxide
Wild caught
How Was it Caught?
Free Swimming caught without the use of Fish Aggregating Devices (FADs) that may harm other sea life.
Track This Product