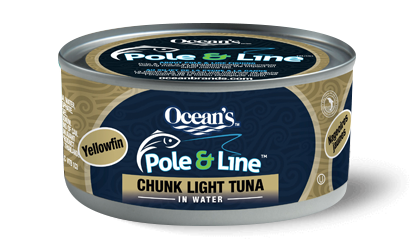 Pole&Line Chunk Yellowfin Tuna
(Yellowfin Tuna – Latin: Thunnus albacares)
Caught with one pole and one line, not only is it sustainable, it also provides livelihoods to developing communities in the South Pacific. Exclusively available at Costco.
See Nutritional Information
Yellowfin is a larger tuna species weighing 5-20kg on average, and has a distinctive gold stripe running along its sides.
It can be found in the Pacific, Atlantic, and Indian oceans.
Catch methods can be purse seine or pole & line, we use pole and line caught fish, which eliminates the potential of catching other fish or sea life.
Ingredients
Yellowfin tuna
Water
Salt
Product Features
13g of protein per 55g serving
Low in fat
Low in saturated fat
Free of trans fat
Responsibly caught
Dolphin friendly
Kosher
Certified B Corp
Wild caught
Ocean Wise Recommended
How Was it Caught?
One by one fishing through Pole & Line is considered the most environmentally sustainable and socially responsible way of catching tuna.
Track This Product