As we announced last month, Ocean's has released its line of mouth-watering Yellowfin Tuna Steaks! These tuna steaks are ultra convenient. They come individually packaged and are easy to prepare. In fact, they're ready in just 10 minutes! What's even better is that Ocean's Tuna Steaks are pre-marinated and available in three amazing flavours: Bold Black Pepper, Simply Naked Yellowfin, or Tasty Thai Chili! These super steaks are also less than 200 calories, but still pack 27 grams of protein! They truly are a triple threat in terms of taste, convenience and health! Today, we will go over the ease with which you can get your tuna steaks from pouch to plate. Let's go!
It cannot get any easier to prepare a protein that is so diverse. First, take the steak out of the package and thaw in a bowl of water. You can thaw the steak for 4 hours or overnight, whatever is more convenient. Once your steak is ready to cook, pre-heat a pan on medium heat  with ½ teaspoons of oil. When the pan is ready, add the tuna steak and cook covered for 3 ½ minutes on each side. After the second side is cooked, remove from the pan and let stand – yes, this fish can stand! – for 2 minutes before serving. We love this Tuna And Arugula Salad as a serving option for the steak because it is tasty, light and ultra low carb. Bon appetit!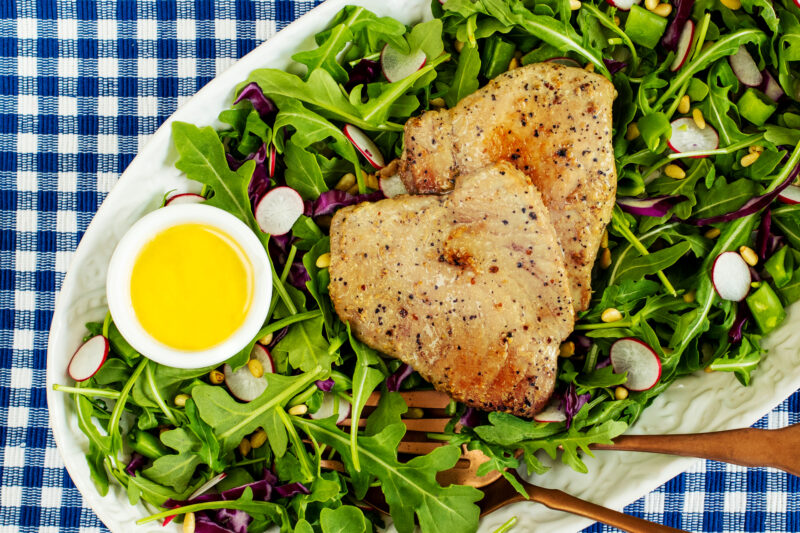 Grilling is another way to get your tuna steak on and it's our preferred method. Nothing compares to the flavour of freshly grilled meat, and these steaks are no exception! Again, thaw the steak in a bowl of water, whatever is easier between 4 hours or overnight. Note that you can keep the steak refrigerated after thawing for about 24 hours. In other words, feel free to thaw it out overnight then leave it in the fridge, ready to go for after work! Getting back to the cooking, unlike the pan searing method, this time you are going to brush the oil directly on the steak. When that is completed, grill it for 4 minutes on each side. Again, let your freshly cooked steak stand for 2 minutes off the heat. This will also give you time to do any additional prep and take in the amazing aroma emanating from the steak. That's it! Cooked and ready to serve, such as in this Mediterranean Tuna Cous Cous Salad!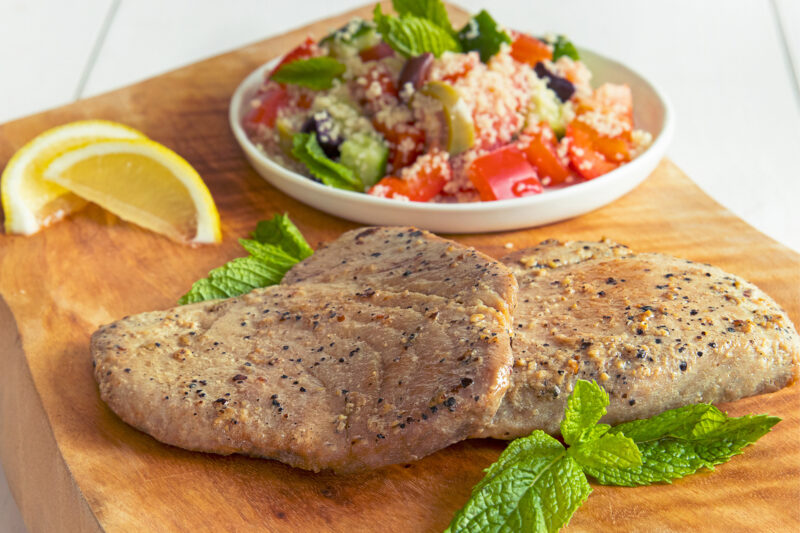 Ocean's Tuna Steaks are delicious, healthy, and convenient. Getting responsibly-sourced protein has never been easier. Marinated and ready to cook, Ocean's Yellowfin Tuna Steaks are solution to your meal planning woes. Find them in the frozen aisle at your favourite local grocer!