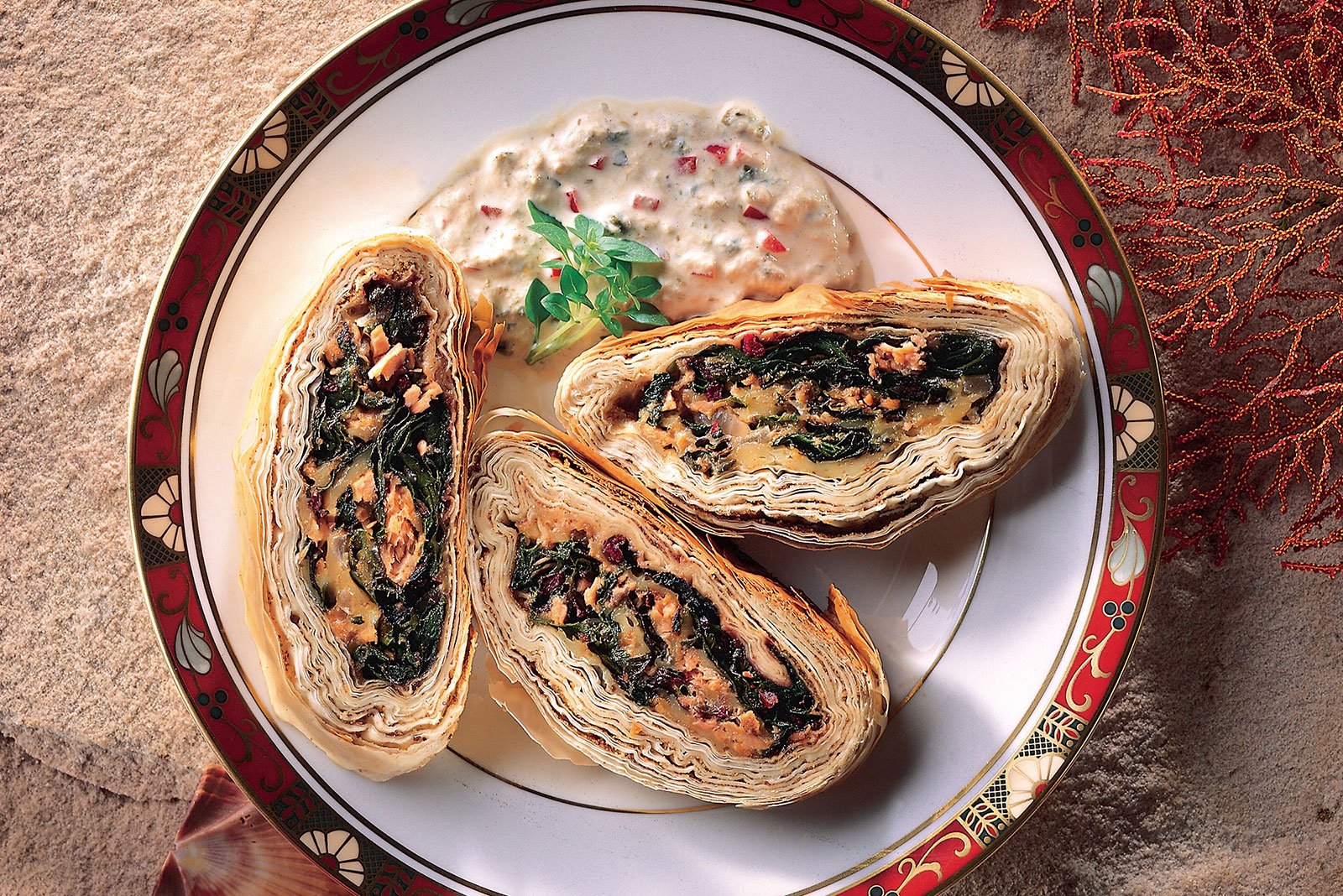 Phyllo Wrapped Wild Salmon Strudel
An impressive entree or appetizer.
Ingredients
1 bunch

spinach

2 tbsp

oil

1

medium onion

, chopped
1 can (213g)

Ocean's Pink Salmon

, drained

salt and pepper to taste

½ cup

Swiss or Jarlsberg cheese

, shredded
2 tbsp

dried bread crumbs

2 tbsp

Parmesan cheese

, grated
¼ cup

unsalted butter

, melted
8 sheets (12″x16″)

phyllo dough

, thawed
Product Used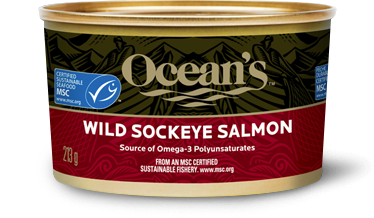 Wild Sockeye Salmon
Directions
Preheat oven to 375

°

F (190

°

C).

Rinse and drain the spinach. Remove the stems. Coarsely chop the leaves.
Heat 1 tablespoon of the oil in a skillet over low heat. Add the onion and sauté until softened and translucent. Stir in the spinach and cook 1 minute or until completely wilted.
Stir in the drained salmon, breaking it up into pieces. Drain off excess liquid and transfer mixture into a bowl. Season with salt and pepper. Stir in Jarlsberg, 1 tablespoon of the bread crumbs and the Parmesan. Set aside.
Stir the butter and remaining 1 tablespoon of olive oil together in a small bowl.
Open the phyllo sheets on a work surface. Brush first sheet with some butter/oil mixture. Sprinkle with 1 teaspoon of the crumbs.
Top with 2 more sheets of phyllo, brushing each with butter and sprinkling each with crumbs. Top with another sheet (4 in total), and brush it with butter.
Spoon

½

the filling along one side of the phyllo, leaving about 1

½

inches without filling on each end. Fold the long sides in to enclose the ends of the filling. Roll up the phyllo to form a strudel roll. Repeat with remaining phyllo and filling.

Place both strudels on a baking sheet seam side down and brush the tops with any remaining butter and oil. Bake until deep golden, 25 minutes. Let the strudel stand for 5 minutes before slicing and serving.
Tips and Tricks
This is great as a starter or appetizer, using a smaller portion.
The phyllo could be wrapped in a triangle shape or stuffed and enclosed in a dome shape mould or rounded teacup.
Great for advance preparation and freezing individually.