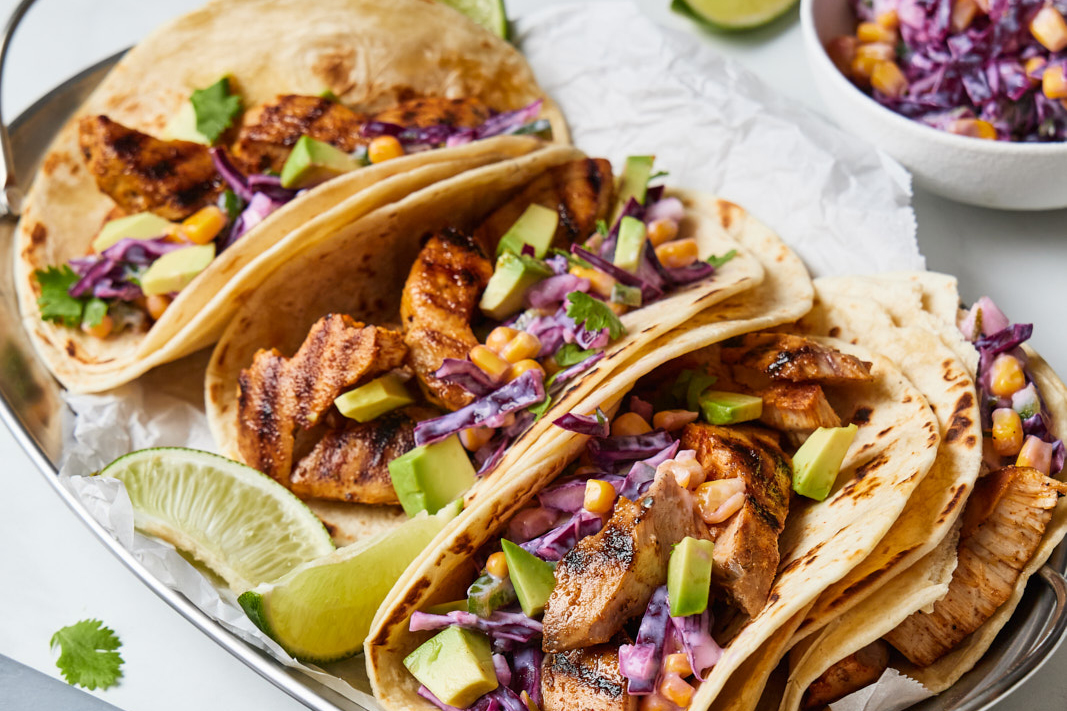 Easy and Delicious Grilled Tuna Steak Tacos
Whether it's taco Tuesday or Saturday afternoon, these grilled tuna steak tacos will have you craving them all week! It all comes together with soft tortillas, Naked Yellowfin Tuna Steaks grilled to perfection, a super flavourful marinade, and a fresh and crunchy slaw! So good!
This tuna steak recipe was developed by Ocean Brands partner, Olive & Mango! Follow her on instagram @theoliveandmango and check out her website for more delicious recipes.
Ingredients
1 270g package of Ocean's Naked Yellowfin Tuna Steaks (2 tuna steaks)
Corn tortillas – we usually double up so 4 singles or 8 doubles
Sliced avocados and lemon wedges for serving
FOR THE MARINADE:
2 tbsp of olive oil
½ tsp garlic powder
2 tsp chili powder
½ tsp cumin
½ tsp salt
¼ tsp pepper
¼ tsp oregano
Juice of one lime
FOR THE CORN AND CABBAGE SLAW:
¼ cup of sour cream
Zest and juice of one lime
1 tsp honey
2 tbsp of chopped cilantro
½ cup of corn (fresh, frozen or canned)
1 jalapeño, seeds removed and chopped
1 cup of finely sliced red cabbage
½ small red onion finely diced
Product Used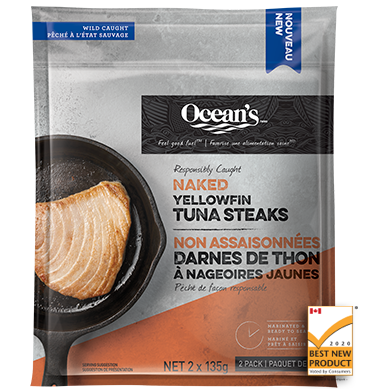 Naked Yellowfin Tuna Steaks
Directions
In a small bowl, combine the chili powder, cumin, garlic powder, paprika, oregano, salt, and pepper and stir to mix. Add the oil and lime juice and whisk until a loose paste is formed. Rub the fish with the spice paste and let marinate in the refrigerator for 10 minutes.
In a medium bowl, whisk together sour cream, lime juice, lime zest, cilantro, and honey. Stir in cabbage, corn, and jalapeño. Season with salt and pepper and set aside.
Light a charcoal fire or preheat your gas grill on high. Oil the grill's cooking surface. Let the coals burn down to a medium-hot fire or adjust the gas grill burners to medium-high, or grease an indoor grill pan well and heat to medium/high. Grill the fish until just cooked through, 3 ½ minutes per side. Transfer to a cutting board and coarsely chop.
Grill the tortillas until hot and soft, about 10 seconds. Stack the tortillas and wrap them in foil to keep them warm
Serve fish over grilled tortillas with corn and cabbage slaw and sliced avocado and lime wedges.