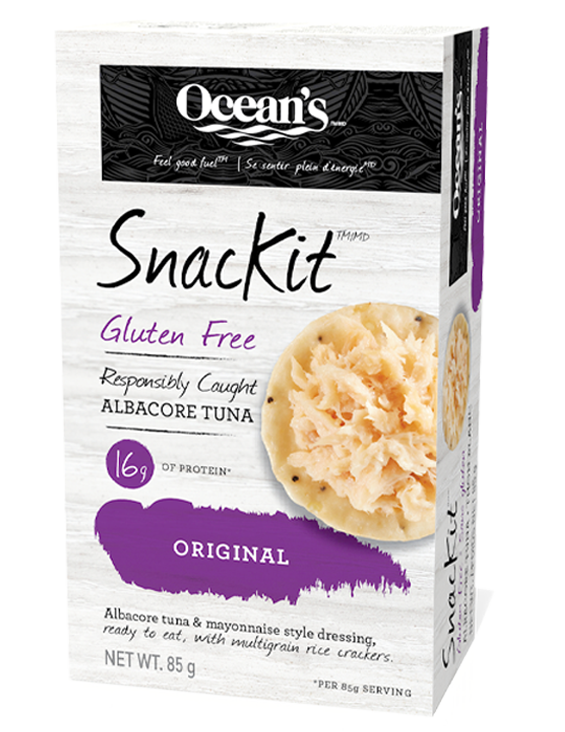 Original Albacore Tuna SnacKit™
Sustainably caught Albacore tuna with a mayonnaise style dressing and delicious rice crackers make it a great addition to a gluten free diet. Exclusively available at Costco.
See Nutritional Information
Albacore is one of the larger tuna species weighing 9-20kg on average, and distinguished by their longer pectoral fins.
Albacore can be found in the Atlantic, Pacific and Indian oceans.
Our Albacore is from the Central Pacific ocean, and caught via long line fishing with circle hooks.
Tuna Ingredients
Albacore tuna
Water
Vinegar
Sugar
Modified tapioca starch
Soybean oil
Egg powder
Modified waxy maize starch
Sea Salt
Xanthan gum
Guar gum
Cracker Ingredients
Jasmine rice

Brown rice

Palm oil

Chia seed

Sesame seed

Millet seed

Salt

Maltodextrin

Yeast extract

Tocopherols
Product Features
Gluten free
16g of protein per serving
Zero trans fat

Responsibly caught

Certified B Corp
Ready to eat out of the box
Classroom friendly
Dolphin friendly
How Was it Caught?
Longline fishing uses lines with baited circular hooks. This method helps reduce the amount of marine life that is mistakenly caught when only using longlines and standard hooks.
Track This Product