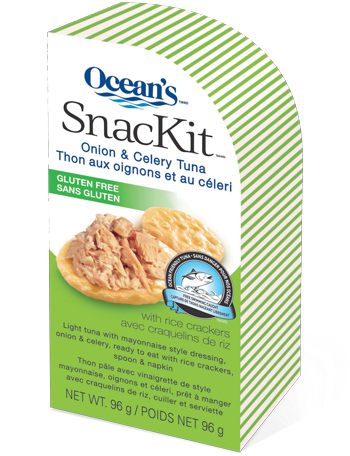 Onion & Celery Tuna SnacKit™: Gluten Free
A delicious blend of our sustainable Skipjack tuna, mayonnaise style dressing, mild onions, and crisp celery. Rice crackers make it a convenient gluten free snack!
See Nutritional Information
Ingredients
Tuna with celery & onion:
Skipjack Tuna
Water
Vinegar
Sugar
Onion
Celery
Modified waxy maize starch
Rice Bran Oil
Egg Yolk Powder
Salt
Egg White Powder
White pepper Powder
Xanthan Gum
Guar Gum
Crackers:
Rice
Palm oil
Maltodextrin
Salt
Sugar
Tocopherol
Sodium inosinate
Sodium guanylate
Product Features
Gluten free
15g of protein per serving
Zero trans fat
How Was it Caught?
Free Swimming caught without the use of Fish Aggregating Devices (FADs) that may harm other sea life.
Track This Product