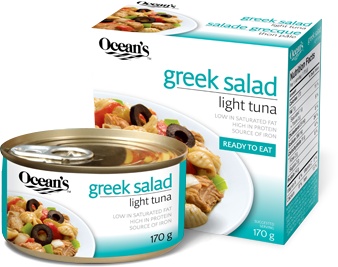 Greek Salad
A Mediterranean medley of vegetables, pasta, and Skipjack tuna, all blended in a delicious Greek dressing. Opa!
See Nutritional Information
Ingredients
Skipjack tuna tomato dressing (water, vinegar, soybean oil, olive oil, sugar, parmesan cheese, garlic, salt, lime juice, mustard, black pepper, oregano, xantham gum, oregano flavor)
Green pepper
Pasta (durum wheat, semolina, egg whites, glycerol monostearate)
Olive
Cucumber
Onion
Product Features
Free of trans fat
14g of protein per can
Low in saturated fat
Allergens
Soy
Egg
Wheat
Mustard
Milk
How Was it Caught?
Free Swimming caught without the use of Fish Aggregating Devices (FADs) that harm other sea creatures.
Track This Product