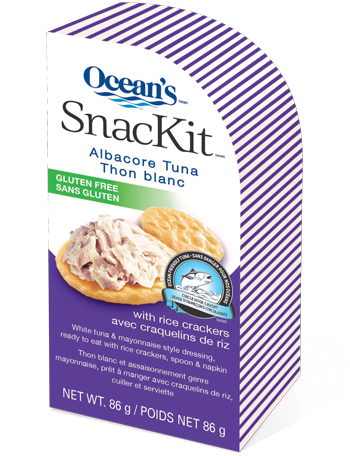 Albacore Tuna SnacKit™: Gluten Free
Sustainably caught Albacore tuna with a mayonnaise style dressing and delicious rice crackers make it a great addition to a gluten free diet. Exclusively available at Costco.
See Nutritional Information
Ingredients
Tuna in mayonnaise style dressing:
Albacore tuna
Water
Vinegar
Sugar
Modified tapioca starch
Soybean oil
Egg yolk powder
Modified waxy maize starch
Titanium dioxide
Salt
Egg white powder
guar gum
Xanthan gum
Crackers:
Rice
Palm oil
Maltodextrin
Salt
Sugar
Tocopherol
Sodium inosinate
Sodium guanylate
Product Features
Gluten free
16g of protein per serving
Zero trans fat
Available exclusively at Costco
How Was it Caught?
Longline fishing with baited circular hooks avoids mistakenly catching untargeted sea life.
Track This Product